Unfortunately, our shipping times are delayed as we deal with the implications from COVID-19. Learn more here.
Shipping & Returns
How long does delivery take?
Standard shipping in the lower 48 takes 4–7 business days. Shipping to Canada takes between 10 and 15 business days since packages need to clear customs, though it can be faster. Shipping to Alaska and Hawaii can take 10–20 business days.
For the lower 48 in the US, you can upgrade your ship method when checking out, if you want. We offer FedEx Ground and FedEx 2–day shipping in addition to our standard shipping option. We ship from Atlanta, GA.
FedEx Ground transit times: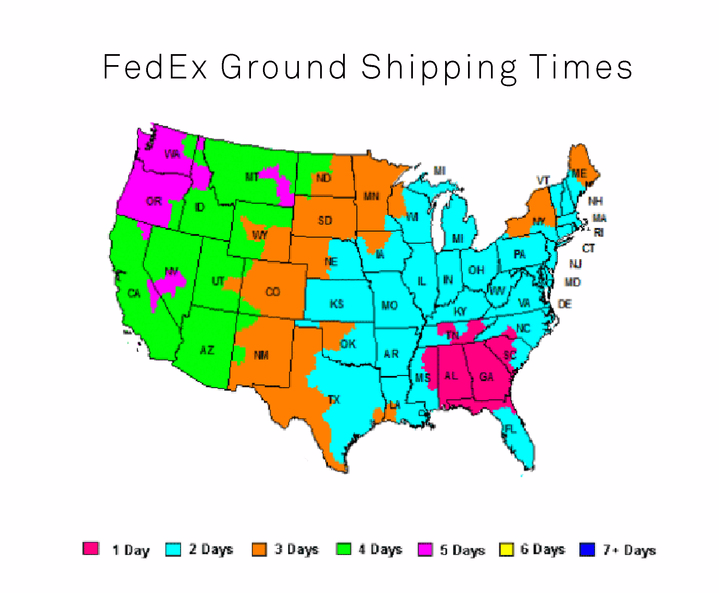 Note that delivery dates are based on when a package ships. For example, if your order is expected to ship on Thursday and you choose 2–day shipping, it should arrive in two business days – which would be Monday (assuming no holidays).
If you received an order shipment email, you'll be able to be able to track your order through the tracking number in that email.
Are you able to guarantee delivery dates?
Generally, we can't guarantee any delivery dates, especially for standard shipping. We're sorry about that. It's out of our hands – it has to do with the carrier's schedule and practices, not ours. But if you absolutely need an order by a certain date we suggest you upgrade to 2–day or overnight shipping.
When does my box ship?
We ship subscription boxes between the 6th and 15th of each month (it takes us a little time to get everything in place and boxed up). You can also click into your shipment to see the estimated ship date.
Where do you ship to?
We ship to the contiguous US, Alaska, Hawaii, and Canada. We also ship to military addresses, but you'll need to either text 914.326.2765 or email help@bespokepost.com to make that happen.
What about Canada?
Shipping to Canada is an additional $10. This is incremental to the standard shipping charges that may apply to an order. You can always verify at checkout what the precise charges will be. We also need to charge Canada sales tax, which varies by province.
You should expect your package to take 10–15 business days to arrive from the date it is shipped. All packages will be delivered "free domicile" – which means that all duties, taxes, and shipping charges are paid in advance by us. You won't have to pay any extra fees to the driver when your package arrives.
Which service do you use to ship boxes?
Standard shipping for boxes varies month by month based on where a box is going and how much it weighs. For the US, typically the USPS will make the final delivery to your door, though sometimes we use FedEx. In Canada, we use MSI/Landmark as a consolidator, but FedEx, Canada Post, CanPar, or another carrier will make the final delivery to your door.
Can you have the delivery person leave my package at my doorstep if I'm not home?
This is usually left up to the person who is delivering your package. There's no guaranteed way to make this happen, but a good bet is to put this type of instruction in the "Address 2" field of your shipping address.
How much does shipping cost?
Standard shipping is to the lower 48 states, and all orders over qualify for free shipping. There is an additional $10 charge for all shipments to Hawaii, Alaska and Canada. That extra charge offsets the shipping costs we pay to get your package in your hands; it's not a profit center for us. For Canada, we pay all duties so you won't owe anything when your package arrives.
Can you ship to military addresses (APO/FPO/DPO)?
Sir, yes sir. Though we need to manually set it up – shoot us a text at 914.326.2765 or email at help@bespokepost.com and we'll make it happen.
How do I set up a return or exchange?
If your box has already shipped, you can quickly and easily set up a free return by following these few steps:
click the account icon on the top right of the window,
select "Orders",
click the "Order ID" of the order you'd like to return,
click the blue "Return" button,
select the product(s) you'd like to return and click "Continue",
select the return kind ("Exchange", "Store Credit", or "Refund") and click "Request a Return Label" – which will then be emailed to you.
If you're submitting an exchange, the exchange request will be emailed to our Customer Experience team for processing. Look out for an email from them in the next 1–3 days.
If you'd like to read more about our return policy, you can find that below under the "Returns, Exchanges & Refunds" section.
How long does it take to process a return?
2–3 weeks from the time you send it back to us, usually.
What's your return policy?
We accept returns for most boxes and products within 60 days of an order. For boxes, we only accept returns of the entire box, and for products, they have to be returned in the original manufacturer's packaging and in mint condition. There are a handful of products we can't accept returns for (sorry about that), which are so noted on the product page.
Exchanges or returns in exchange for an account credit are free. If you'd prefer a refund to your credit card, $6 will be deducted from the refund to cover return shipping and restocking. The amount of the return will be for the value paid for the product(s) sent back minus any discounts. And we can't issue a credit or refund for shipping charges – sorry!
If you're ready to return something, just visit your Account History to process a return. If you have any questions, you can always reach out by texting us at 914.326.2765 or by emailing us at help@bespokepost.com.
What if I received a product that's broken or damaged?
First off, we're sorry about that. Secondly, there's a fix. Send a text to
914.326.2765
or an email to
help@bespokepost.com
and we'll take care of you right away. Be sure to include an image of the broken item with your initial message.
I love most of the items in my box, but there's one I don't want – can I return just that?
Nope, sorry. Our boxes come as one package, which is how we're able to offer such a great value, so we can't break out pieces of a box. But hey – now you've got a great item to re–gift next time you forget a birthday.