Want to know what to drink, eat, and do when you're hitting a new town? We've got your back with dispatches of some of our favorite spots of the moment in our favorite cities. Get your weekend bags ready.
Vancouver's got a lot of things going for it, like a breathtaking natural backdrop and extremely loose marijuana regulations. Most guides will recommend biking through Stanley Park (which puts Central Park to shame), long hikes, and nature walks, but don't much acknowledge Vancouver as a focal point of urban art, food, or culture. On the surface Vancouver's nightlife is either timid or involves a pair of boot cut jeans, a hockey jersey, and drinking way too much on Granville street. The nightlife that you want to see, though, is tucked away in small bars serving quality beer and quirky tapas, after-hours parties on Main Street, and a saturated First Nations arts culture that's now fully coming to the foreground.
And ok, we'll admit it: a long bike ride through the park is pretty nice, too.
Alchemy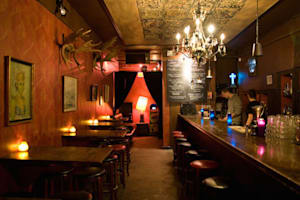 The Narrow is a bar/lounge located in Mount Pleasant, barely recognizable at the entrance: a weirdly ominous, graffitied back door marked by a single red lightbulb. The bar is, as the name implies, a narrow room that's decked out in vaguely gothic booths, mounted animals, and a large chandelier giving off a dim glow. It all adds up to a vibe that's cozy, buzzing, and once you get past the speakeasy-esque entrance, inviting. Their four-page drinks menu gives you plenty of options, but the Narrow Caesar — the bar's take on a Caesar, a Canadian favorite akin to a Bloody Mary — was our favorite. Fair warning, though: it's strong stuff.
---
Grub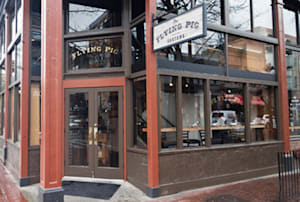 This is internationally acclaimed chef John Crook's joint, with two locations and immersive open kitchens in each. Despite the name, The Flying Pig's menu isn't all that heavy with pork. Instead, there's a terrific range of all kinds of local and seasonal ingredients that defy strict categorization, and there's no way you can go wrong with anything on the menu. We had a side of crispy Brussels sprouts glazed with lemon, parmesan and capers along with red wine braised beef short rib, which comes with roasted bone marrow and an aged white cheddar mash. Naturally, we polished off the meal with a bottle of Pinot Gris from the Okanagan Valley, BC's top wine region.
---
The Experience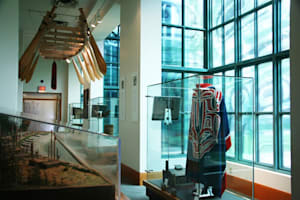 Walking through Reid's gallery space is an experience in and of itself; it's an open, well-lit space in downtown Vancouver, showcasing everything from contemporary coastal art to more traditional First Nations art pieces. The gallery is a cultural staple that hits on notes from both the modern urban and historic indigenous aspects, and is well worth a stop to appreciate the city's cultural fabric.
They gallery hosts a rotating lineup of exhibitions that are all well worth checking out, but RezErect: Native Erotica, one of their current offerings, is one of the best we've seen in a while. 27 local First Nations artists looked to their personal and communal aboriginal cultures to create a lineup of art that's playful and provocative (in more ways than one). The works use a unique combination of First Nations artistic traditions to tell narratives you most likely haven't heard before, and in ways you definitely haven't seen before.