A summer filled with swimming, boating, surfing, diving, and kicking back by the waterfront requires a good swimsuit. But buying a good swimsuit requires you to know how they should fit.
Of course, this is partly a matter of preference, and you should feel free to wear whatever makes you feel best. But if you want a modern, flattering silhouette that looks sharp without going over the top, there's a sweet spot to keep in mind.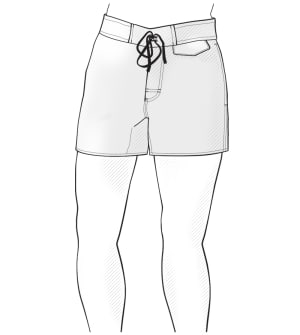 Too Short
Ends at Upper Thigh
It's not that trunks like these are inherently unflattering – for especially style-minded and in-shape guys, they look great. The problem is that the extra-short silhouette is so fashion-forward and revealing that it's tough for most guys to pull off.
They also require you to wear a tightly cropped shirt to keep the tailored silhouette consistent – anything too loose, and the visual difference between your top and bottom sections will look odd.
If you've been doing your squats all winter long and want to show off your perfectly defined legs, then by all means, go for a pair like this. For the rest of us, trunks this short are a bit much.
---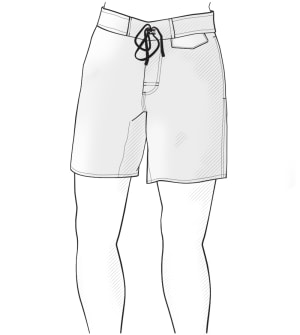 Just Right
Ends at Mid-Thigh
This is the exact way we designed our Dive board shorts: short enough to be modern and flattering, but long enough that you're not showing too much leg.
The inseam should extend to the mid-point (or just slightly lower) of your thigh, leaving an inch or two or space between the bottom of the shorts and your knees.
To us, this is just right. They're comfortable for running around the beach, and impart a summery style factor without going overboard. They're also the perfect length for complementing the rest of your wardrobe – toss on a rumpled oxford or a breezy t-shirt, add a pair of loafers or flip-flops, and hit the boardwalk bar.
---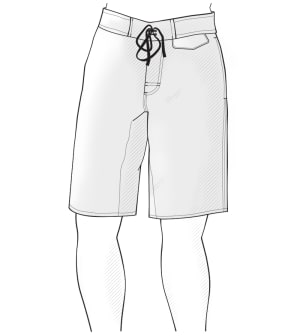 Too Long
Ends at or the Below Knees
If your style is a little more conservative, this length is probably what you'd lean towards. Don't. Anything that falls at your knees or lower looks awkward, as if you're wearing hand-me-downs from a taller sibling.
This length also calls to mind the extra-long, low-slung surfer style from the early 2000s, which makes you look dated in the present day.