Here's the goal: they bite into a piece of your soon to be famous fried chicken. They don't freak out, they don't devour – they just stop, mid-chew. And there is a second full of realization that you're not the kind of guy who can just dump some olive oil on pasta or grill up a burger. You've reached another plane of culinary expertise.
We're talking about Southern fried chicken in a buttermilk brine, cooked in cast iron.
The following fried chicken recipe is based on a most excellent post from Tasting Table. As you can see, I used the same basic format, which is a hybrid between deep frying and pan frying.
I make no claims that this is the best recipe available, and as a developing hobbyist just excited to make something that tastes really good, I know I have a lot of room to run. That being said, if you follow these steps, you'll wind up with some damn good chicken.
Rise and Brine
First off, I use thighs and legs. They're harder to dry out during the cook. For a standard 2-3 person batch, I buy about three pounds. The first thing you're going to with them is soak in a buttermilk brine.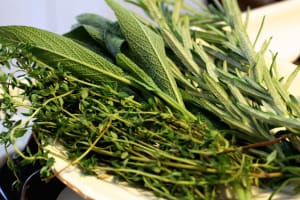 Brines are a sore subject for chefs, because while they definitely make poultry more plump and moist, they also don't impart a great deal of flavor. And if we were just roasting this bird like a Thanksgiving turkey, maybe it would be a different story, but we're frying, baby. Herb-infused buttermilk brine, + well-seasoned flour dredge = chicken that turns Colonel Sanders into Colonel Blanders.
In a large pot, combine 1 quart of buttermilk, 2 tablespoons of salt, 4 cloves of pressed garlic, a bunch of fresh rosemary leaves, thyme leaves, and sage leaves that you slap in your hands like a fancy bartender. Don't use dried stuff, okay? Stay with me here.

The chicken soaking in brine.

Next, squirt some hot sauce in there - if you have Crystal, a Southern favorite, definitely use it, but I'm guessing you, like me, have some Frank's in the fridge, and that works fine. Last, scrape some lemon peel in there with a zester, and put the juice in too for some citrus notes that punch up the buttermilk.

Here's a quick note on herbs. Spiky leaves that look like pine needles = rosemary. Tiny little leaves with tough, woody stems = thyme. Broad, fuzzy leaves = sage.

Now, whisk that goop up so the salt mixes in. It's going to look and smell like a mistake, but don't worry about that. Put the chicken in there and submerge as much as possible. Now cover it with a big plate or something and put it in the fridge for like 4 hours, or overnight.
---
Dredge It Up
An incredible amalgam of flavors and texture make fried chicken worth the trouble. The crispiness comes from a spiced flour dredge.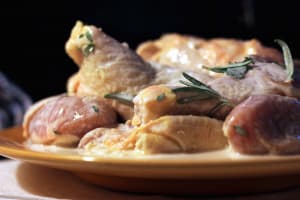 Take the meat out of the fridge. Tasting Table says to leave it out for two hours, to let brine's salt redistribute throughout the meat. The thought of raw chicken laying around for hours makes me queasy, so I just take it out while I get other things around.

That said, putting cold chicken in hot frying oil, makes for lukewarm frying oil and underdone chicken. This has happened to me, and it sucks. Follow your gut.

While you get the dredge together and the meat is warming on the counter, prep your frying oil. Canola oil works great, as does peanut oil and vegetable oil.

Don't use olive oil, because it has a low smoke point – meaning that at a certain temperature, it starts burning off. So unless you'd like a kitchen filled with black smoke before your chicken is finished cooking, avoid it.

Get out your cookware. You'll notice Tasting Table calls for a cast iron Dutch oven. That would be awesome, and if you have one, definitely use it. I'm not even sure what that is, so I use my trusty cast iron skillet.

I pour about 1.5 inches of oil in there – as much as it can hold without spilling once I add meat. Then turn on the burner and let it heat up, until you can put an instant-read digital thermometer in there and it reads 375 degrees.

Now let's hold it for a second. I know what you're thinking: "Do I look like a soccer mom? Did I just get home from coaching my soccer team of misfits that will hopefully pull together at the last second to win the sectionals against the rich snotty team from across town? No. I'll pass on the instant read digital meat thermometer, and just use my man instincts to know when this oil is hot enough."

Well, I thought the same thing until I got beautiful, golden brown, crispy-on-the-outside-but-basically-raw-on-the-inside fried chicken, now referred to as my night of broken dreams. Use the damn thermometer.

The dredge.

While your oil is heating, combine 2 cups of flour, a 1/2 teaspoon of cayenne pepper, a dash of salt, another dash of pepper, and some more thyme leaves. Mix that all together in a big bowl.

Heat your oven to 400 degrees. The reason will become clear once all hell breaks loose.
---
Fry Like a Bird
You may notice your kitchen now feels like the engine room in the Titanic. It's going to get hot, and everything in your house is going to smell like fried chicken, so you may want to shut some bedroom doors and open some kitchen windows.
Just to prep for what's about to happen, everything is going to go pretty fast and get pretty real. Get ready.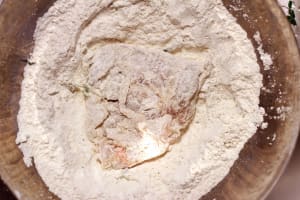 First, you put a piece of raw chicken, still dripping in brine, into the flour, and swish it around. You want flour in every single flabby crevice of that chicken – that's important.

This is when the magic happens.

Use some tongs to put that chicken into your 375-degree oil, which is going to go crazy, bubbling and spitting. If some hits your hand or wrist, fight through that pain. This isn't about you.

Do this in batches, and use long-handled barbecue tongs to turn the chicken occasionally. You want a really nice golden brown exterior. Somewhere around now, you should start feeling awesome because your pale, sad, raw chicken is now starting to look like actual, adult fried chicken.

Whip out your soccer mom meat thermometer again and poke it into the fattest part of what's cooking. The chicken is done when it reaches 155 degrees. If it gets golden brown before reaching 155 degrees, and it probably will, take it out of the oil and let it finish cooking in the oven. Once it reaches 155, put it on a wire rack so excess oil drips off.
---
Eat It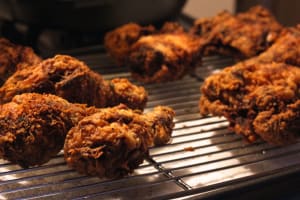 After that chicken cools for a few minutes, you can sink your teeth in. Now, you can use a plate, but that's usually a struggle for me. At least one leg is invariably consumed before I put a shirt back on, which had previously gotten hurled across the room during the hotter-than-hell ordeal.
Whether you're wearing a shirt or not, when you present your friends and family this golden, well-seasoned, perfectly crisp pile of meat, they will bite in and stop, food bulging in their cheeks, and look at you for one of those sweet moments of, "I didn't realize that you could cook like that." And they'll never see you the same way again. Good fried chicken changes lives.