British TV. It's got both the best and the worst humo(u)r, storylines and acting out there.
Shows like Sherlock and Downton Abbey have raised expectations for men on both sides of the Atlantic to new heights. To live up to these Anglo archetypes, we've got to be mysterious, dashing, chivalrous, tragic, and able to make everything fine with one perfectly-tuned turn of phrase.
And now there's a new BBC show that finished its second season in November and is now quickly gaining ground in the US: Peaky Blinders, which tells the story of a post-World War I gang in England who sew razor blades into the brims of their caps to blind their enemies in combat. What's not to like?
And maybe best of all, the guys on the show are dressed to kill. (Ugh, that was terrible. Sorry.)
The show's first two seasons won almost twice as many viewers in the UK as Mad Men's first seasons in the US, and it shows no signs of slowing. But an interesting trend has followed — not on computer screens and airwaves, but in menswear shops. To keep up with old England's on-point style, here's what you need to know from head to toe:
Newsboy Caps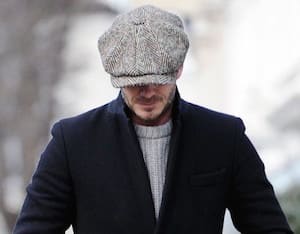 These came into vogue among the working classes in the early 1900s. Dock workers, steel workers, farmers and yes, newspaper boys gave the woolen eight-paneled caps a good, gritty start before the aristocracy eventually picked them up for hunting and golfing.
It's a risky style move, but if you've the panache to pull this off, go for it. Just make sure to keep the rest of your outfit thoroughly simple and on-point, lest you end up looking like you're headed to a Newsies audition.
---
Club Collars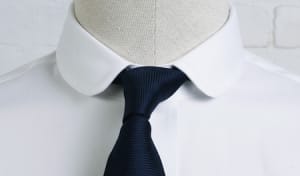 Also known as an Eton or penny collar, these rounded variants had a menswear moment that began when minimalistic designer Patrik Ervell designed slim-fitting modern takes on the style, which then became his signature item. The trend peaked back around 2010, though it's been popping up on well-dressed gents with a penchant for vintage styles ever since.
Hugh & Crye makes a good one for not much money, though you're likely to find plenty of options if you're in the market for one. They've become a standard option at everything from fast fashion shops to retail stalwarts like Ralph Lauren and Brooks Brothers.
---
All Tweed Everything
Originally, tweed was worn by landed gentry for hunting, golfing, and motoring, back when "motoring" was a thing. It's warm and cozy, but has a bit of stretch to it, which is perfect for hunting a partridge on the heath (whatever that means.)
Today, tweed is a standard for blazers and even full suits, though it's more of a fall/winter thing. Keep your tailoring on point — keep it slim, give your suit pants an inch and a half of cuff, and don't be afraid to slip on some polished boots — and you'll look dashing and seasonal. Plus, you'll be plenty warm on your walk to work.
---
Waistcoats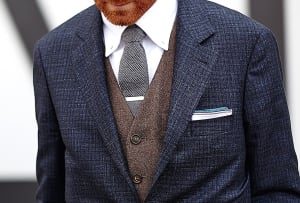 Some say "waistcoats" dip lower in the neck than "vests," and are just for Downton Abbey-style dinnerware. Others say "vests" are just what Americans call "waistcoats." In any case, both have rebounded in popularity several times since the early 1900s and are enjoying another renaissance today, usually in the form of three piece suits (which includes a vest in the same fabric as the jacket and trousers).
As with most clothes, get one that hugs your body. And maybe most importantly, exercise extreme caution when wearing one without a jacket. They look great as part of a suit (assuming everything's properly tailored), but when you lose the jacket and try to go the casual route, it can look a bit odd. If you're going to try, make sure the rest of your outfit is casual enough, and in different fabrics, that it doesn't look like you just forgot half of your suit.
---
Cropped Pants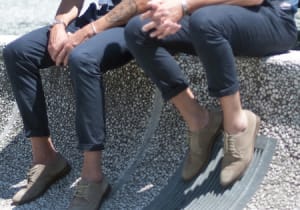 This has been big, in one form or another, for several years now. Whether it's rakishly rolled-up jeans or aggressively tailored suit pants, pant legs that hover just above your ankles can be a great way to showcase your best pair of kicks or a particularly stylish set of socks.
The easiest way to do it is just to give your cuffs a roll or two, with bonus points for a disheveled, uneven roll like so in order to avoid looking too anal.
---
Cap Toe Boots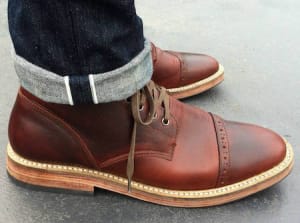 A cap toe, where a seam runs horizontally across the toe box from an extra layer of leather, lends a slightly dressy feel to any pair of shoes. Which is why it's a cool detail for tough winter boots, giving them a put-together feel without taking away from the rugged edge. We've seen them all over town this past winter, and they're straight out of the Peaky Blunders style guide.
Get a pair that hits above the ankle (pairing nicely with those cropped pants) and ends with cap toe to give your getup a sense of grounded authority.
Going with all of these style choices at the same time may get some (well deserved) side-eyed glances. The key difference between a stylish outfit and a costume is deliberate moderation. Pick one, or maybe if you're feeling bold, two of these to try out and pair them with wardrobe standbys for a new vibe that's not too out there.
If you do go all-out, though, you may have to sew a few razors in your cap to convince the fashion types.