We love a good dry-aged ribeye or Waygu strip as much as the next guys, but not so much the $30+/lb price tags. So what's a guy to do when you want a crispy, salty, savory steak without blowing the entire month's grocery budget?
Easy: ask your butcher for any of these cuts. Not only are they delicious, but they're far less expensive than the butcher counter standbys like strip and filet mignon (which aren't even that great to begin with).
And one quick tip for when the time comes to cook: whether you're using a grill, stove, or broiler, make sure to invest in a meat thermometer so that you can accurately gauge when these are fully cooked. You want to take 'em off at about 125 degrees for medium rare perfection.
Hanger Steak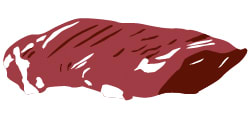 Also known as "butcher's steak," since butchers liked it so much that they sometimes kept it for themselves instead of selling it — which should give you a good idea of how great this cut is. It packs a huge amount of savory flavor akin to a ribeye, but without the wallet-emptying price tag.
It can be pricey at fancy, in-the-know markets since it's started to get popular with chefs and demand has risen among home cooks, but at old-school butcher shops, hanger is usually inexpensive and readily available. It comes in a long cut that your butcher should divide into two separate trimmed steaks that are ready to cook.
Where It's From
The plate, or the front of a steer's belly beneath the ribs. It hangs off of the diaphragm, hence the name.
How To Cook It
Hanger steaks aren't especially thin, but they're no two inch thick strip. That means you need very high heat to get a good sear on 'em before they overcook. On a grill, liberally pile on the charcoal and let them get blazing hot. Indoors, use a cast iron pan and heat it as high as possible (warning: your kitchen will get smoky. Open some windows and disconnect the fire alarm.)
Since they're so flavorful on their own, all you need to do is season them with some salt and pepper, though you're welcome to use a marinade or rub if that's your thing. Either way, cook them to medium rare and no more or less, since it's a less forgiving cut that can be way too tough when well-done and mushy when rare.
---
Chuck Eye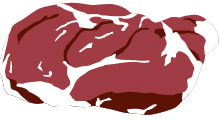 "Chuck" is a very big cut of beef that encompasses the entire area behind a steer's shoulder, extending back to the ribs. It's not especially desirable since the meat there is tougher and less flavorful, but the chuck eye is an exception. Think of it as a more cost-effective version of a rib eye with a much lower price tag and only a slight drop in flavor and tenderness.
That's because it's almost the exact same cut, but located just shy of the rib section of the steer. Just don't confuse it with regular "chuck steak," which is a usually ground and used for burgers — you want the eye, which is the boneless center cut of the chuck that's more flavorful and grill-ready than the rest.
Where It's From
The chuck ends where the sixth rib of the steer begins (ribs one through five are shorter and considered chuck). Delicious but pricey rib eyes are cut from the center of ribs six through twelve. The chuck eye is essentially the same cut, but located one rib over in the chuck section.
How To Cook It
It'll be a little less tender, but you can cook it just the same as a ribeye or strip: plenty of salt and pepper, then seared on a very hot grill or pan. Since it's slightly tougher, it can be marinated overnight if you'd like, but it's not really necessary.
---
Flank Steak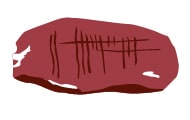 Flank is long, flat, and inexpensive. It's usually used for fajitas or stir-fries, but that doesn't mean it should be relegated to those dishes — a properly cooked flank steak can be a savory, delicious cut that's terrific for serving a group given the large size (about three pounds) and ease of slicing. And since you can cook it in the oven under a powerful broiler, it's a great option if you don't have access to a grill.
It's tougher than most cuts because of its location on the steer, so it requires a bit more work to cook to a mouthwatering tenderness, but it can be done. Look for one that's got a deep red color and is butchered well (it shouldn't be too roughly cut or still have any of the inedible membrane attached).
Where It's From
The abdominal muscles of the steer. Because that section is strong and well-exercised, the flank is a bit tough, but it's still plenty serviceable.
How To Cook It
You're gonna want a marinade or a dry rub on it, since it doesn't have as rich a flavor as other cuts. Go crazy with the flavors, use plenty of salt, and reserve some of the mixture for coating the steak after it's done cooking. When it's time to cook it, you're gonna need a grill or a broiler, since these things are too big for the stovetop.
Hit it with high heat to develop a crust, and then move it to a cooler side of the grill or further away from the broiler to let it cook through to a medium rare if it's not already there. Once you've taken it off and let it rest, slice the steak against the grain into thin strips and plate with whatever else you're serving.
---
Skirt Steak
If you're looking for the best bang for your buck, skirt is what you want. It's primarily used as meat for fajitas, but like flank steak, its applications go far beyond that. When done right, it's packed with savory, buttery flavor, but you've got to take care to properly trim it and not to overcook the thing.
Skirt steaks are cut with a tough membrane attached, which you may need to take off if your butcher hasn't already. You'll also need to trim away some of the fat from the exterior — it's already well marbled, and the excess fat on the outside isn't necessary or helpful — and then it's good to go.
Where It's From
The plate, just like hanger steak.
How To Cook It
Like flank steak, skirt is a good option for using a rub or marinade because it's got a loose texture. But unlike flank steak, it's not really necessary — like any really great cut, a liberal amount of salt and pepper is all you need for a great steak. What's more important is the heat you use to cook it.
Skirt is even thinner than hanger, so the same principle applies: get your grill or pan incredibly hot before you even think about putting the steak on. You need the blazing heat to develop a rich, deep crust without leaving it on so long that it overcooks. Once it's done, let it rest for ten minutes and slice against the grain.
---
Top Round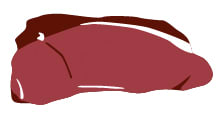 Top round is lean and tough, without much fat or marbling. That doesn't sound ideal, we know, but trust us: this can be turned into something magical. Flank steak is usually the cut of choice for "London broil," which isn't a cut (despite some rogue butchers insisting otherwise), but a dish of broiled or grilled flank steak that's sliced super thin against the grain.
No need to stick to flank, though; top round works just as well. With a good marinade and/or spice rub, cooked rare with a deep char, and sliced into razor thin strips against the grain, top round makes for insanely good sandwiches akin to Baltimore's pit beef.
Where It's From
The rear leg of the steer. The top round is a subsection of the larger "round," which also includes a bottom round and eye of round (the center).
How To Cook It
You'll want to rest this in a deeply flavorful marinade and/or spice rub for a day or two before you plan on cooking. Since it's such a big cut, searing on the stovetop isn't a good option — use a grill or, less ideally, the broiler in your oven instead. Like with all steak, you want a nice crust without overcooking the insides, but it's especially important not to overcook top round since it'll be much tougher, less flavorful, and less fold-able (a crucial part of sandwich assembly) if you cook it past medium rare.
Lay the steak onto a hot grill or by a broiler and let a deep char develop, but carefully monitor the internal temperature and take it off as soon as you hit rare or medium rare. Since top round is so thick, it'll take considerably longer than other cuts and you may need to transfer it to a cooler part of the grill or oven so that it can get to temperature without getting too blackened. Once done, rest it for twenty minutes and slice as thinly as possible against the grain.
---
Tri-Tip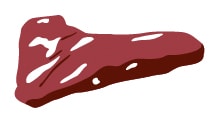 It's (somewhat obviously) named for its triangular shape, and not all that popular outside of California, where it's a major component of Santa Maria-style barbecue. But tri-tip is a solid option for inexpensive, large format beef that's not too short on flavor. It needs a heavy spice rub and goes well with a sauce, since there's not as much rich beefy flavor as some other cuts on this list, but that's not to say it's bad. It may not stand on its own as well like a hanger or skirt steak does, but assuming you've got other flavors present in your meal, tri-tip is a fine choice.
Where It's From
The bottom sirloin, which is above and towards the back of the abdominal flank.
How To Cook It
At the very least, you need plenty of salt, pepper, and garlic, but you can use a bolder rub or marinade if you'd like with whatever flavors float your boat. Prep your grill with a hot side and cool side, then sear on the hot side until you get a good crust. Move over to the cool side until it reaches your ideal temperature, then take it off to rest and slice against the grain. You're going to have to accept the fact that the narrower tip will cook faster than the larger part of the steak, so the finished product will be more well done on that end — serve that part to your guests who like their steak cooked medium or medium well.