Take any steak cut there is, add a healthy dose of seasoning, grill until it's got a deep char and a medium rare inside, and it's guaranteed to taste good. As these flavorful, underrated, inexpensive cuts prove, you don't have to drop a lot of cash to have a mouthwatering meal.
But what about when you want to go all-out? Special occasion dinners, holiday cookouts, or hell, just a night by yourself with a good bottle of red wine.
That's when you should turn to these four best-of-the-best options. They won't be easy on your wallet – they run $20/lb and up at our local butchers – but they will be really damn good.
Before you break out your credit card, though, remember that shoddy grilling can ruin even the best steak. If you're going to spend this much money on a single piece of beef, you should:
Season it. A simple salt and pepper mix is usually best.

Cook on high enough heat to get a deep sear.

Take it off the grill or pan before it's overcooked. 125 is a perfect medium rare.

Let it rest for at least ten minutes before you dive in.
Now, onto the steaks.
Strip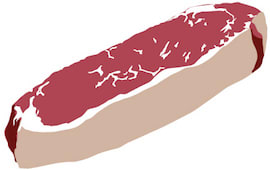 A good mix of size, taste, and fat content. You can expect plenty of marbling, a rich and savory flavor, and a nice amount of tenderness since the muscle they're cut from doesn't get a lot of exercise. They're also a great choice for anyone who doesn't want to cut through too much fat, because while the marbling contributes lots of buttery flavor throughout, strips don't have larger pockets of the stuff like rib eyes do.
Most are about one inch thick, but because they come from the short loin (a misnomer, since it's actually quite large), they can be cut to order. If you're feeling gluttonous and ask nicely, any butcher worth his or her salt should be able to cut you a jumbo sized one.
Some people swear by these, saying that they're a fully flavored, highly enviable cut that's well worth the price tag. Others say that they're good, but not worth the money when you can get a more flavorful rib eye for about the same price.
It just comes down to what you value more. True, a strip isn't quite as decadently flavorful as a rib eye, but that tradeoff gets you more tenderness and a lessened risk of chomping down on a big piece of fat.
Where It's From
The short loin, which is past the ribs in the steer's middle back.
Also Known As
New York Strip, since the cut gained popularity in old New York steakhouses.

Kansas City Strip, though this isn't too common and is usually only used when the bone is left attached.
---
Tenderloin

You can buy the entire tenderloin at some butcher shops, which makes for great roast beef, but it's more common to see this sliced into individual steaks. And while the resulting cuts may be small, they pack one hell of a punch.
They're often considered the most valuable cut, coming from a small and oblong muscle in the lower back that does very little work throughout a steer's life. As the name suggests, that makes tenderloins extraordinarily tender – more so than any other cut. With that tenderness comes a sky-high price tag. These are usually the most expensive cuts that money can buy, clocking in around $30/lb at our local shops.
The downside to tenderloins, aside from the cost, is that they have very little marbling. And less fat means less flavor. If you value tenderness above all else, these are unquestionably the best choice, but they're not ideal if you prefer that extra rich, savory, buttery flavor of a well-marbled steak. That's why you'll often see bacon-wrapped filet mignon on high-end restaurant or catering menus – this cut needs all the flavor help it can get. If you want to give it a helping hand when you're making one at home, baste the steak with lots of butter once it's almost finished cooking.
Where It's From
A narrow section that runs through the steer's lower back, from the round (the butt) into the short loin (where the strip comes from).
Also Known As
Filet or filet mignon. Technically, though, filet mignon is only a small part of the tenderloin – it's cut from the small forward end.
---
T-Bone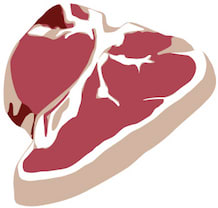 Combine the strip and the tenderloin and you get the T-bone. It's cut from where those two sections meet, separated by – you guessed it – a T-shaped bone. The larger section is the strip, in all of its well-marbled beauty, and the smaller section is the tenderloin, prized for its tenderness. So basically, you're getting the best of both worlds.
Cooking these is a little tricky, since tenderloins cook more quickly than strips, and the attached bone insulates parts of each. For a successful grilling session, you'll want to position the steak so that the strip section is directly over your coals (or flame, if you're using propane) and the tenderloin is further away.
Where It's From
Where the short loin and tenderloin meet, in the steer's middle back.
Also Known As
Porterhouse, though it's not a 1:1 comparison. Porterhouses are much larger since they're carved thicker and from further back on the tenderloin. The USDA says they have to be 1.25" thick at minimum, so if you order one, you'd better bring your appetite.
---
Rib Eye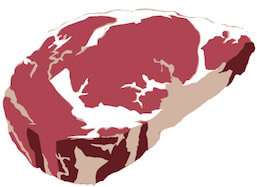 As you might have guessed from the name, these are carved from the steer's ribs. Most food professionals will tell you that this is the king of steak cuts , since you get an impossibly rich flavor that's second to none.
Like strip, these are cut from a muscle that doesn't do a lot of work, which means they're tender, delicious, and contain lots of marbling. Unlike strip, there are larger sections of concentrated fat throughout the steak, including a larger piece at the top that separates two of the steer's muscles (the longissiumus and the spinalis, if you want to get technical). All that fat adds a ton of beefy, buttery flavor, but it also leads to inevitable flare-ups when grilled. It's not a huge deal, just be mindful not to let yours burn too much.
You can usually get these with or without the bone – doesn't make much of a difference either way. Grilling with the bone ensures a rarer section on the part that's connected, and it looks pretty cool, but it doesn't impart any extra flavor.
Where It's From
The ribs, obviously, located further forward than the short loin. Specifically, rib eyes are cut from ribs six through twelve, where the meat is at its best. Ribs one through five are called "chuck." That meat is often ground up for burgers, but you can also get a chuck eye steak from the fifth rib – it's similar to rib eye, but costs less.
Also Known As
Tomahawk or cowboy steak, but only when the bone is still attached.