Two doors down from my boyhood home in New Cumberland, PA, there's a coffee shop where I worked from ages 13 to 16. It wasn't much in those days: the chairs were aging, with wrought iron legs and backs that had bent under the weight of time and regular customers. The tabletops were stained, and the kitchen for baking and dishwashing was nothing more than a narrow corridor, catacomb-like in its claustrophobia. I loved it.
As a teenager, I made it a personal goal to memorize the drink of every customer who entered the doors, whether or not I would ever see them again. I learned how to tamp espresso, froth milk, and pair drinks with pastries with chef-like erudition. But there were more intangible aspects, too: how to talk to adults, how to navigate relationships with coworkers, and how to discipline myself to keep up on my studies while holding down a job.
And maybe biggest of all, I learned that the local coffee shop isn't just the spot where you go to get caffeinated – it's a culture unto itself. A neighborhood organism that sustains and multiplies good vibes, burning the greatest fuel of all: coffee.
Today, my old coffee shop – or Brew Crumberland's Best, as it's been renamed by its new owners – has a full kitchen and a new lounge with local art hanging on the walls. The décor is being updated (though there are still a few of the old chairs), and the menu is being expanded. The new owners, Laurel and Wade, are siblings who bought the place from their aunt and uncle, and they somehow appear both completely mellow and totally focused.
Laurel earned a degree in Pastry Arts from the Escoffier School of Culinary Arts. With that, and past experience as a barista, she pounced on the opportunity to purchase the shop, giving her the freedom to whip up her own baked goods and pair them with smoothly-brewed beverages. As Laurel explained, "I've seen plenty of coffee shops with great coffee but lousy pastries, and bakeries with wonderful pastries but no real beverage options. We want to be amazing at both; we want people to have the whole experience when they come here." As the shop began to see steadily increasing profits, Laurel knew she needed more hands on the management deck, so she pulled Wade, who was working on his Marketing and Economics degree, into the business.
They're young and driven; they want multiple locations, and for BCB to become a household name. But for all of their ambition, when I asked them about the grand vision for the shop, their answer reminded me of the shop's roots. "No matter what," Wade said, "we always want to maintain the small-town feel."
---
When I sat down in BCB to meet with Laurel and Wade, it was fifteen minutes shy of closing time. Laurel was unloading fresh produce in the back, Wade was training a new hire, and the two employees at the counter and the drive-through worked to keep up with the eleven customers who arrived in those fifteen minutes. Keeping regulars isn't a problem for BCB, but despite their success, gaining new customers and competing with the big names in the coffee industry aren't easy tasks – for them, or any other local shop.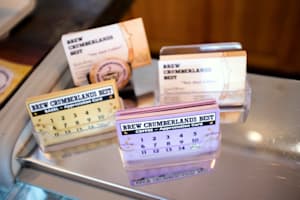 Ambitious though they are, the two believe in a deliberate approach to business growth. They took their time finding a local bean roaster who delivers freshly roasted coffee beans once a week. They shop local produce to use in their pastries and other menu items. And they're currently testing different cold-brew suppliers, which has been a slow process – as Wade says, "cold brew is a real science."
It's that kind of mellow intentionality that speaks to their wisdom, and how Laurel and Wade can keep the small-town vibe for which they strive. They don't believe in passing fancies like limited-edition mugs and mass-produced menu items, brought in frozen and heated in a microwave. And while they see the value of social media, they still believe in word-of-mouth. They don't want to write their customers' names on cups; they want to know their customers' names.
When I asked Laurel and Wade if they have any tips for the person who's new to the world of coffee, we sat in silence for a few moments. They wanted to process their answers. Then Laurel casually said, "We're all about freshness here. If you're new to coffee, get the freshest beans you can find. And if you want to cold brew, start with a light roast coffee, and be patient. Like Wade said, it really is a science. Try different flavors and roast intensities and figure out what you like best." Wade smiled and nodded his bandana-wrapped head in agreement.
---
I walked into Brew Crumberland's Best not knowing what to expect. The name has changed, the walls are louder, and the stained table tops of the skateboarding, hemp necklace-wearing days of my youth have been replaced with glass and Formica. But the soul of BCB is steadfast.
The local coffee shop is a staple in any neighborhood. It's an entity, a presence that lives and dies by its commitment to quality and the dedication of its regulars. Laurel and Wade are conscious of the balance – they value their products and their customers equally, and it's impressive to see what they're doing with the place. To me, though it'll always simply be the coffee shop two doors down from my parents' house, where I learned how to work and grow.