My grandfather moved into assisted living, and something had to be done with the farm. My grandmother died four years earlier. For more than 65 years, they lived in that house gathering treasures, each representing a different point in their time together. For the last 23 of those years, I was a pretty constant fixture.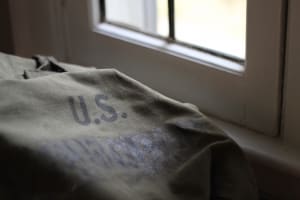 During the estate sale that would help pay for Grandpa's care, I walked through the rooms of the old farmhouse. Grandma was born there in 1919, and it stayed in the family. The entrails of cupboards and drawers covered every surface. Standing in the dining room, I remembered years of card games when the fluorescent lights burned late into the night. I walked into the living room, where I decorated their Christmas tree year after year. Grandma always came in from the kitchen, gasped, and said how beautiful it looked. They had been married in that same room six decades earlier.
Now, these rooms bustled with strangers, unaware of my connection to the house and uninitiated to the homey smells, colors, and textures in each corner. I felt like a ghost, watching other people pass through a space that had been mine. They looked through me at appliances and mid-century mementos lining the walls.
---
Days before, the grandchildren were allowed to pick out things they'd like before the general public. One of the things I chose was a green canvas duffel bag.
The duffel was a relic from World War II, with Grandpa's name stenciled on it in black. It must have been issued when he was drafted, and he brought it home in 1946 after his discharge.
How to Pack a Duffel
Roll, don't fold. You'll have less wasted space and fewer wrinkles.
Heavy things go on the bottom. That'll be much kinder on your shoulders.
Things you need on hand – like a book during a flight, or a fire starter if you're camping – go on top.
A coat of wax will repel water and increase durability. To do it yourself, check out our canvas waxing tutorial.
That means it traveled by his side all over the country, and across the ocean to the Mariana Islands in the South Pacific. It would have bulged with clothes and other belongings: letters to Grandma, his polished cigarette lighter, an Agfa Ansco folding camera manufactured in Binghamton that he used to snap photos throughout his time away. The canvas would have been exposed to sub-freezing winds sweeping the Tug Hill Plateau, thick Mississippi humidity, and salt-soaked heat on Tinian Island. Now here it sits, ready to carry my stuff just like it carried his. And that's a problem.
What am I supposed to put in this thing? To be completely transparent for a second, my grandfather died a week ago. I was a pallbearer at his funeral. There were so many stories about him – about how kind and giving he was, about his full laugh and big spirit. And while family and acquaintances thought of him, I kept mulling over what I should be taking away from this – the lessons he'd want me to learn from his funeral. Maybe that sounds self-centered, and maybe it is, but I've been mourning his gradual physical and mental departure for years firsthand, so it seemed like he'd want me to look forward while also looking back.
---
When he was still in the Army, Grandpa zoomed around Letchworth State Park on a motorcycle, once riding so fast and so low, the footpeg hit the road and threw sparks across both lanes. For 33 years he worked on the line in a GM plant, coming home from the swing shift whistling and making my mom and the other four kids laugh. One night, he and I were walking down the road and he started running, just to see if he could still do it. He was 88.
Now I have his duffel. The same one he had in his twenties. I'm making decisions every single day about what kind of man I am – writing my story, just like he wrote his.
In the end, it's just a bag. It was his, now it's mine, and if he knew I was pontificating so much over it, he'd laugh and tell me to find something better to do. But still, I can hold this thing in my hands and it makes me want to live as big as he did. Since sailors invented them in the 1600s, their purpose was to last, weathering even the harshest conditions. His has lasted pretty well during the last six decades, and it connects me with him, that time of his life – the same time I'm figuring out right now.
Whatever I hold onto throughout my life, I want it to make me kinder, more generous, and more joyful. I want people to remember my laugh instead of how critical I can be. I want them to remember how quickly I offered to help people instead of how often I'd fall asleep in front of my Netflix account.
When I found the duffel, I thought it was empty, but it's not. It's full of Grandpa's best qualities. Someday, when someone goes through my stuff and finds it there, I want it to be fuller than ever.