Fly fishing is the straight razor of the angling world.
Not in a brash way, nor in a way that draws a hard line between machismo and timidity; it's a hands-on Renaissance method of coaxing trout, salmon, bass, redfish, and more onto the end of your line.
There are more glamorous ways to catch fish, just as there are more glamorous ways to rid yourself of stubble. Spinning reels, flashy rods, and roaring boat motors are the fishing equivalents to the triple-razor, soothing-moisture-strip-equipped, ball-joint contraptions that have turned the grooming world into a flashy circus, distinct from the simple affair it used to be: a man, some shaving cream, and a gleaming blade.
Fly fishing, though complex in its mechanics, is actually a straightforward experience. It calls us to an era when grizzled men roamed the Wild West, when Teddy Roosevelt and the Rough Riders ran roughshod over hooligans and lesser men. Those men had their moments of action, but solitude defined their journeys. Most times, you find yourself alone on quiet waters as you fish, alone with and almost swallowed up by the environment around you.
It's a concept I weirdly immersed myself in during high school. I went through a phase in which I'd come home from school, pop in my VHS tape of the classic A River Runs Through It and watched the closing scene over and over again. In this clip, Norman Maclean stands on the lazy waters of the Big Blackfoot River; his wife and most of his friends are gone, he tells us. With trembling hands, he ties a fly to the end of his line. "I am haunted by waters," he says, as the scene fades out.  
I suppose fly fishing is somewhat of a relic, and maybe that's why I love it, and why I deem it the straight-razor of the angling world. For me, it's an art – a far cry from sleek bass boats roaring across open waters. In its freshwater form, there are rarely any sounds of two-stroke engines belching to life, and few smack-smack-smacks of hulls battling choppy waters. Just the airy swoosh of a fly rod moving back and forth, the staccato click of a reel, and the slurp of water easing past you, unimpressed.
The Rod, Reel, and Line
Rods, reels, and lines are classified by weight, each ranging from 0 all the way to 14. Smaller fish are caught on rods with lower weight ratings, while arm-breaking leviathans require the heavy stuff. When you make your first purchase, remember this: the weight ratings for each component need to match. Why?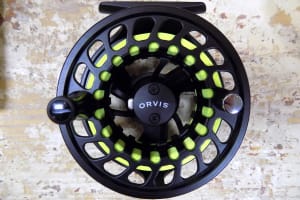 Because you are, in most cases, trying to cast a nearly weightless fly, you can't get it out on the water simply by drawing your rod back and whipping it forward like you could when your dad took you bass fishing.
You have to create momentum with the line in order to build up the speed to send your fly across the surface. To do this, you rhythmically move your rod forward in front of you, and backward over the shoulder of your dominant hand. The line creates a tight loop as it moves, which will carry the energy that will take your fly where you want it to.
As you feel the momentum gather, you let out a bit of line from the reel, by hand. This process continues until you've got enough line racing through the air above to reach the trophy fish beyond the still water you're standing in.
So if you buy 4-weight line, a 10-weight rod, and an 8-weight reel, you're going to have problems. The momentum you want in your line just isn't going to collect as easily as you'd like if your components aren't in sync; your casting will be like an engine with an out-of-whack timing belt.
My suggestion is to head to a local fly shop to buy your gear and have someone at the shop advise you and help you build your outfit. Then, sign up for casting lessons. It's an art form best learned by practice, under the tutelage of experts.
---
Buying the Right Gear
When shopping for a rod, you can't go wrong with some of the bigger names on the market – you'll find varying levels of quality and price. The same rules apply to reels.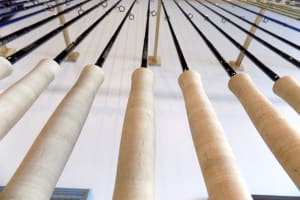 Combos that include a rod and reel are known as "outfits". Many times they include line, too, which means they're ready to hit the water as soon as you buy them and tie your fly of choice on the line. They're a great option for you if you're looking for introductory gear that will help you master the basics.
As for the line, that's an entire subject in and of itself. Unlike your conventional setup where you slap on a reel full of 8-pound test, a fly line starts with string-like backing, transitions to a heavy-gauge line, then tapers to monofilament leader and tippet before terminating at the fly.
Sounds complicated, I know, but you can always head to your local fly shop and you'll be able to get a hands-on demonstration of how this works. Fly fisherman are a dying breed and local stores are dwindling along with them, but while they're scratching for traction, these shops are havens for fly fisherman who are more than happy to welcome you to the tradition and show you the ropes.
Saltwater or Freshwater?
I stopped by my local fly shop, Black Fly Outfitters in Jacksonville, Florida to gather a few photos of gear for this post, and while there, I spoke with owner Vaughn Cochran for a bit about the sport. One of the first things he told me is that most guys' perception of fly fishing is limited.
"A lot of guys hear 'fly fishing' and they think it's exclusively a freshwater sport because of what they see in A River Runs Through It," Vaughn told me. "They're surprised to find out there's a big saltwater fly fishing movement."
In my Jacksonville neck of the woods, saltwater is king. Remember those line weights I mentioned earlier? They reach their top end when you head out to sea for mahi-mahi, bluefin, sailfish, and marlin. And when you're ready to buy your first outfit, you'll want to purchase saltwater-specific gear if you have the access and interest to make saltwater fly fishing your focus.
Aside from the gear you'll use and a few other details, the most notable difference between saltwater and freshwater fly fishing is the fly, which is to fly fishing what the lure or bait is to reel fishing. And that's the second half of what makes the fly fishing world a Renaissance movement.
The Flies
Before homebrewing became a thing and straight razors started populating handcrafted chrome stands in apartment bathrooms, a small band of fisherman hunched over metal vises and hand-made minuscule vessels of deception that would soon lure fish to the end of their line.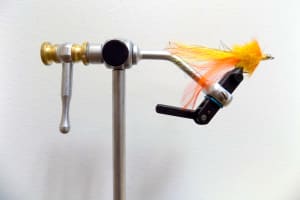 The beauty of fly fishing is that even though you can buy flies made by others, you're encouraged to make your own flies to attract your fish. Getting started is simple: shops like Black Fly usually stock several different vises you can buy and all the accessories you'll need to start generating your custom design.
To understand what you'll need, I'll walk you through the process of making a fly. There are, in general, two types of flies: wet and dry. Wet flies drop beneath the surface of the water while dry flies sit on top of it.
How to Tie Your Own Fly
Whether wet or dry, both flies start with a bare hook gripped mercilessly by your vise. Once clamped in place, you employ the indispensable services of your bobbin, which holds and evenly dispenses your string. A few quick revolutions around the hook and your string is set: it's what you'll use to tie everything together in what is best described as a step-by-step addition of an insane combination of materials, like:
Soft lead wire
Metal beads
Fur snipped from a hare's face
Fine feathers pulled from a pheasant's breast
Lengths of fuzzy string
Opossum fur
These odd ingredients aren't the only materials used, but they represent the witch's brew used for the art. And the beauty of it is that all of these materials are bagged and tagged for sale together at shops like Black Fly.
Using a combination of string, cement, a little wax and a lot of patience, you turn a bare hook into a work of art. And as you get into the zone, the hours will slip by.
Buying the Right Gear
Like fly rods, there are dozens of choices you have for fly-tying gear. If you're the set-it-and-forget-it type, you can stop by the fly shop and buy a complete kit with all the tools you'll need to start. If you want to hand-select all of your components, you can do that too. A beginner's kit, along with the aforementioned bevy of animal fur and materials, will cost you somewhere around $150. And as you become more comfortable with the art, you'll want to upgrade to a higher-quality vise.
The next step is to sign up for fly tying classes, or have an experienced friend mentor you on the subject – it's the best way to learn the addictive and meticulous craft.
There will come a time in the future where you find yourself alone in a creek, at the beach or on the shore of a lake. You'll reach into your vest and pull out a plastic case housing some flies you tied by hand. You'll grab the end of the line, tie your favorite fly to your tippet and, within seconds, start coaxing your line back and forth.
Time may not stand still, but it sure will feel like it. And when a redfish's fight or a salmon's struggle breaks that stillness – well, that's where the fun is.