In celebration of the National Park Service's 100th birthday, it's high time to head outdoors and enjoy Mother Nature. Whether you're trekking through trails, hiking up mountains, or swimming under waterfalls, adventures ensue in these stunning locations for your next campsite.
Assateague Island National Park
Maryland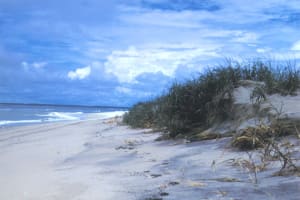 Maryland's only oceanfront campsite, the 37-mile Assateague Island is a barrier island between the Atlantic Ocean and the Sinepuxent Bay. The area is filled with wildlife, including the island's legendary wild horses.
Once your camp is set up, head into the water for swimming, fishing, and some light surfing. You can also rent kayaks or canoes to get a look at the island's coves.
Keep in mind that only the Maryland side of the island is sanctioned for camping; that said, there's plenty of room to enjoy horseback riding and even hunting (within the legal parameters). Just make sure to remain vigilant of quickly-approaching storms and changing tides.
---
Olympic National Park
Washington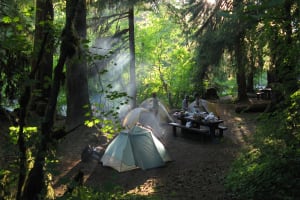 The paragon of unbound, one million acre adventure, Olympic National Park has something for everyone. From canopy-covered rain forests to rough coasts and glacier-tipped mountains, this arcadia will definitely quench your wanderlust.
Hike across Hurricane Ridge, where wild goats roam and wildflowers cover the hills that overlook the ice-capped peaks. Visit Crescent Lake, home to the Crescenti and Beardlee trout. Kayak or sail on the calm lake water, or hike throughout the lake's surrounding mountains or lowlands.
With tons of individual ecosystems and iconic locations, the Olympic National Park feels less like a camping spot and more like an otherworldly escape.
---
Denali National Park
Alaska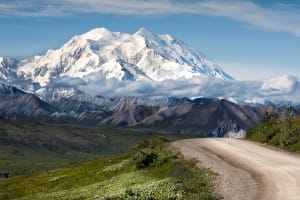 Head to Alaska for pure serenity. Home to the tallest peak in North America, the 20,310' Denali, the eponymous national park is six million acres of untouched land, spanning as far as the eye can see, aside from a single road that cuts across the horizon.
The park is bustling with wildlife, which includes 39 species of mammals, 169 species of birds, and 14 species of fish, all of which Congress sought to protect when it dubbed the area a national park in 1917.
There are mountaineering and climbing options available through the park should you wish to test yourself, though they're no joke – you'll need to come prepared with heavy-duty equipment and lots of nature know-how. Make sure to swing by the historic sled dog kennel, too, which boasts the only sled dogs in the United States that help park rangers actually protect a national park.
---
Everglades National Park
Florida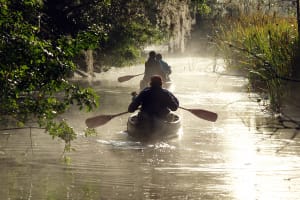 The next time you head to Florida, skip Miami and head here instead. The Everglades are a fundamental part of maintaining the home of many endangered and rare species, such as the manatee and the Florida panther (though hopefully you won't run into any of the latter).
Shark Valley is at the center of the Everglades and contains a 15-mile loop available for biking or walking, which takes you through some of the most exotic trenches of the entire park. The observation tower in the Valley allows guests a 360-view of the Everglades, too.
You can schedule a sightseeing tour boat from the Gulf Coast Visitor Center to sail across mangroves; or, even visit the largest living mahogany tree in the United States by hiking the Mahagony Hammock Trail.
---
Bryce Canyon National Park
Utah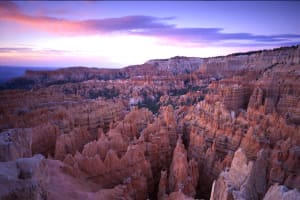 You most likely won't have the chance to explore another planet anytime in this life. But you can visit Bryce Canyon. Sometimes referred to as the "Forest of Stone," the canyon is filled with hoodoos, pillars of rock left over from erosion that create a dramatic and alien landscape.
Ride a horse or mule on a two- or four-hour guided tour throughout the canyon, or return in the winter for a cross-country ski. Full moon snowshoe hikes are offered November through March, as are winter astronomy programs that are scheduled on Saturday nights to promote the long history of stargazing boasted by the canyon.
And if that's not enough niche academia for you, Bryce Canyon also holds an annual GeoFest, which attracts renowned geologists and blooming rock enthusiasts alike.
---
Acadia National Park
Maine
The first place in America to see the sunrise is Maine's Way DownEast and Acadia region. In this dramatic coastline, you'll witness where land and sea meet. Waves crash against rocky cliffs, eagles soar over melting glaciers from the last Ice Age, and the 1,530-foot Cadillac Mountain (the highest point on the eastern seaboard) towers above.
The area has deep historical roots in seafaring culture, so there are definitely opportunities to dive into water activities like fishing, sailing, kayaking. And with 24 lighthouses, you can also get your fair share of views over the ocean.
There are also inland camp grounds available if you aren't privy to coastline sleeping, or just need to get away from the roaring sea for the night.
Ready to go camping yet?
And as incredible as these spots are, keep in mind that they're only a small handful of landmarks and national parks that are ripe for exploration. From desolate Alaska to the exotic Everglades, and all that's high and low between, the possibilities are endless, and you can bet that there's something special out there for even the pickiest of adventurers. So chose your destination, grab your friends and backpack, and go forth.