We're all for obsessing over what goes into a glass for an expertly crafted cocktail. Before you pour, though, you should know exactly what to pour your drink into. The construction of a glass will directly affect your creation's aroma, taste, and longevity, and each type of drink requires a specific vessel to maximize its potential.
Coupe Glass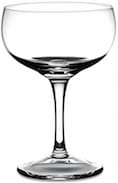 The cone-shaped cocktail glass (also known as a martini glass) is actually an offshoot of the more traditional coupe glass. While it's a popular rumor that the shape of the coupe was modeled after Marie Antoinette's chest, it's (sadly) false. The shallow, broad coupe was originally designed specifically to serve champagne in 17th century England, about a hundred years before Marie was born.
However, the designers must not have understood their job very well, since it makes for a pretty awful way to drink anything bubbly.  Due to the large amount of surface area, champagne will lose its chill and carbonation too quickly.
The coupe is still widely used, but for cocktails rather than champagne – odds are, if you order a cocktail in a decent mixology joint, this is the kind of glass used. Both the coupe and the more contemporary martini version are ideal for mixed cocktails meant to be strained, since the shape shows off a drink's vivid clarity or rich emulsion and the stem keeps you from inadvertently warming the booze with your hand.
Use It For:
Shaken or stirred cocktails that are strained into a glass with no ice.
---
Old Fashioned Glass

The Old Fashioned glass, also known as a lowball, rocks glass, or tumbler, gets its name from the classic cocktail that's made in it. In the past, these glasses were much smaller as they primarily only held two ounces or so of whiskey, but these days there are generally two sizes for broader cocktail application: a standard glass holds about 6-10 ounces, while a double holds 12-16.
The thick bottom is designed for muddling (grinding ingredients or aromatics into the bottom of the glass to release flavors and aromas) which is what makes it so perfect for mixing up an Old Fashioned, where you muddle a bitters-saturated sugar cube. Plus, the short profile means it's ideal for smaller, higher proof pours, and the wide brim lets you appreciate the drink's aroma.
The shape also lets a drink warm in your hand to subtly change the flavor profile, which is perfectly acceptable for complex spirits and cocktails, but not so much for a vodka martini. Unless you enjoy drinking warm vodka, in which case we recommend you take a long, hard look at yourself.
Use It For:
Any drink that's "built" in the same glass you're serving in (so nothing that requires shaking or straining), or pours of individual liquors like whiskey.
---
Highball Glass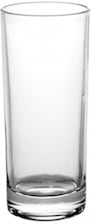 A tall, straight cocktail glass has a few different names: collins glass, highball, or delmonico. Technically, each of those refers to a specific variation with the same basic shape: the delmonico is shortest and slightly flared, the collins is narrow and straight, and the highball is wider and shorter.
Traditionally, each glass is used for specific cocktails, like a Gin Fizz in a highball and a Tom Collins in a – you guessed it – collins glass, but the differences aren't very important unless you're an obsessive mixologist. What is important is that much like a champagne flute, the tall and narrow shape keeps your drink cold and carbonated because of its limited surface area.
Use It For:
Any kind of fizz, collins, or highball. This can get confusing, though, since in this context, "highball" refers not to the actual glass but to a broad family of mixed drinks that involves a base alcohol and a larger proportion of mixer. So, most go-to mixed drinks like Gin & Tonics, Jack and Cokes, Dark 'N' Stormies, Moscow Mules, etc.
---
Shot Glass

Anyone who's ever gone to a college party probably has a little too much familiarity with these already. References can be found to "jiggers" of whiskey from the 19th century, but the term "shot glass" didn't appear until the 1930s, and while there are plenty of supposed origin stories for the glass type, none of them is actually verifiable.
Popular theories include that cowboys in the Old West would empty the bullet and powder from their cartridges as a makeshift whiskey glass, or that it was conceived as a glass placed on the table for diners to place the bird- or buckshot they found in their meat into. They can come in all shapes and sizes, from simple thimble styles to novelty renditions, but in general they hold only enough for one (sometimes very large) sip of high proof booze.
Use It For:
Anything you're going to drink in one sip. Usually that's a single liquor or spirit, but can also be miniature, extra strength cocktails.
Make sure you pair the right glass to your creations to get the most out of them and you'll be enjoying your drinks in a whole new light. And now that you know what to use, you can get to the important part: drinking.