Graffiti has long straddled the line between vandalism and art. And the genre's ability to walk that line is exactly what's made it so compelling since it exploded in the 70s and 80s.
Graffiti artists, aka writers, make their mark by tagging and throwing up work around cities, often illegally. A tag – just a single line expression of the artist's name, kind of like a logo – is the simplest and easiest form. Throw ups – still usually a name but this time in the bubble letter style that comes to mind when you think of graffiti – take things up a level.
But what started as a subversive act, carried out under the cover of night with the threat of arrest, has become a legitimate art form with writers making millions on gallery shows and commissioned projects.
But whether they're dubbed street artists or fine artists, the American graffiti greats are way more than simple decorators of skate parks and subway cars; they've made a pretty huge mark here at home and in cities around the globe. Here are some of the greats.
Utah and Ether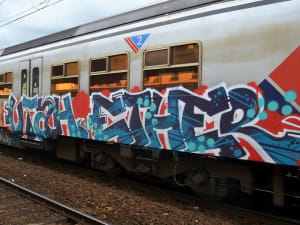 Dubbed the "Bonnie and Clyde" of American graffiti, the duo got their start in the mid-2000s subway car renaissance. But they didn't really rise to fame until an arrest caught some media attention, right after they returned to the U.S. from a tagging trip abroad.
But that didn't slow the couple down – quite the opposite, actually. Their eclectic brand of art and vandalism can be seen on trains and walls spanning five continents and they regularly show mixed media work in galleries all over the world.
---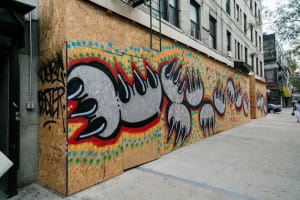 Claw Money
The graffiti artist turned designer/mogul got her start on the streets of New York City in the 1980s, tagging the city with her playful and iconic image of a claw.
Though she's doesn't take to the streets so much these days, Claw's distinct poppy style is now woven into the design and branding of her fashion label Claw & Co.—a favorite of none other than the likes of Rihanna, Nicki Minaj, and Kanye West.
She's also collaborated with big name brands like Nike, Vans, Converse and Calvin Klein, taking her writing worldwide.
---
SABER
SABER got hooked on graffiti at the tender age of 13 after seeing some of the next-level street art in his hometown of Los Angeles. The now world-renowned artist is part of legendary street crews MSK and AWR, but he solidified his place as a legendary solo act when he completed the largest piece of graffiti in the world on the concrete banks of the LA river in the late '90s.
The work, which is nearly the size of a professional football field, will go down in graffiti history. Since 2002, he's been exhibiting his work in gallery shows around the world while remaining an active writer on the West Coast.
---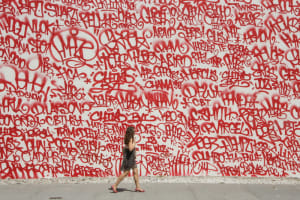 Barry McGee, aka "Twist"
Barry "Twist" McGee perfectly straddles the much-debated line between fine art and street art. He came onto the graffiti scene in the '80s and '90s in San Francisco's Bay Area, where he's still known for his signature writing style and incorporation of contemporary urban culture into his work. Think street signs, scrap metal, and discarded bottles and paint cans.
But the guy has also made a name for himself in the fine art world. After ruling the street writing game, he went on to receive his BFA in painting and printmaking from the San Francisco Art Institute.
As a street artist, Twist is best known for his distinctive handstyle (a term to describe the way of writing your tag name), and has a successful career as a real-deal, fully legal illustrator.
---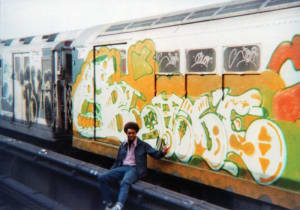 Blade
Perhaps better known as "The King Of Graffiti," Blade made his mark on the New York City rail system in the '70s and '80s. He's said to have painted over 5,000 subway and train cars, and is best known for his full-car murals.
He's credited with pushing the boundaries of graffiti by creating his own characters (rather than appropriating cultural images, like most artists of his time) and creating large-scale conceptual pieces rather than smaller standalone ones. Blade stopped street writing in 1984, but his contemporary work continues to be shown in galleries and museums like the Museum of Contemporary Art in Los Angeles and the Brooklyn Museum.