Before there were clouds of sound, tunes with i and mps of the 3 variety, there was the cassette tape. You don't see 'em much today, obviously — at the same time I was entering high school, the CD was beginning to dominate the music industry and the cassette tape was on its way to being Ned Starked. But like the Lord of Winterfell, a lasting legacy was left behind: the old school mixtape.
Today, you're a right-click, a couple of searches, and several drag-and-drops from hours and hours of mixes. But two decades ago, creating a similar experience literally required months of planning, execution and luck. The steps were as follows:
Beg your parents to purchase you a radio cassette player/recorder. Promise them it means you will watch less TV. (It doesn't).
Have a tape locked and loaded in your player.
Always have the radio on. So many songs to wait for, so little time between episodes of Animaniacs.
If you hear the DJ introduce a song of interest, leap over your bed towards the radio and begin recording.
Hope your parents own a dual cassette player so you can transfer the recorded songs to your in-progress mixtape.
Spend hours and hours of recording, rewinding, fast forwarding, recording, switching tape sides, recording, rewinding…you get the point.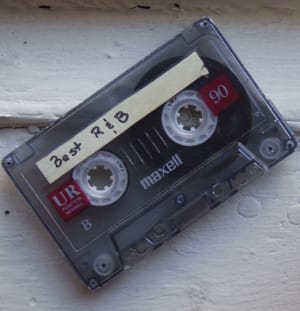 And voila. You have yourself a mixtape.
These relics of the music industry weren't just music. Mixtapes were used to demonstrate friendship and profess love. A way to discover and a way to show off. That's why when I recently found handfuls of these tapes in the undersized closet of my over-priced NYC apartment, I was giddy. And I went right for my favorite one.
Side A was labeled the somewhat presumptuous 'Best Rap' and side B the equally creative 'Best R&B'. Here's the song-by-song breakdown:
Side A - 'Best Rap'
Juicy - The Notorious B.I.G. (1994)
I'd bet 83% of people couldn't tell you what their favorite song is. I can. It's Juicy. And it's not even close. Not sure how a 14 year old in well-off suburbia related to lines like Super Nintendo, Sega Genesis, when I was dead broke, man, I couldn't picture this. But I did. Even though up until that point I had actually already owned Atari, Nintendo and Sega Genesis.
---
Get Money - Junior M.A.F.I.A. featuring The Notorious B.I.G. (1995)
This song "features" Biggie the way the New England Patriots "feature" Tom Brady. Junior M.A.F.I.A. was a group, created by Biggie and made up of his childhood friends, whom encountered a quick rise to fame. Shockingly, the group in it's original form only lasted one album.
---
Only You - 112 featuring The Notorious B.I.G. and Mase (1996)
As you can begin to tell, I was kind of obsessed with Biggie. I couldn't tell you a single class I took my junior year of high school but I can tell you where I was and how I found out about Biggie's death that year. Homeroom. Channel one news. Probably from Anderson Cooper or Lisa Ling.
This song is most notable for the introduction of Mase into the rap game. Mase's career took the MC Hammer path - rapid popularity, a religious career change, and then frequent, long rumored or attempted comebacks.
---
Rebirth of Slick (Cool Like Dat) - Digable Planets (1992)
The song's opening bass riff that continues throughout is hypnotic. The rest of Digable Planets' careers, not so much. It is, however, an impressive murderer's row of nominees that this song beat out for a Grammy that year, including: Arrested Development, Cypress Hill, Naughty by Nature and the dynamic duo of Dr. Dre & Snoop Dogg.
---
I'll Be There For You/You're All I Need - Method Man, Mary J. Blige (1994)
Method Man's resume is as impressive as they come. A member of arguably the greatest rap group of all-time. A successful solo career. A lengthy IMDB page. And, most importantly, he was Prop Joe's right hand man. Teaming him up with Mary J. was just not fair. More on her later.
---
Renee - Lost Boyz (1995)
Story goes like this. Boy meets girl. Boy really likes girl. Girl is shot dead. Not exactly uplifting but this is as good as storytelling in a rap song gets.
---
Big Poppa - The Notorious B.I.G. (1994)
Yes. Him again. The Dangerous Minds soundtrack was my first ever CD and I was (read: still am) a big fan of Gangsta's Paradise. But I'm not sure history will look kindly on Coolio beating out 2Pac, Dr. Dre, and this song for a Grammy that year.
---
How High - Redman & Method Man (1995)
I think I forgot to mention that Method Man was also a member of this successful duo. This is the only song on this tape to also have a corresponding film of the same name. And not just any film. A film that happened to be ranked third on Entertainment Weekly's best stoner films of all-time. We'll ignore the 27% Rotten Tomatoes score.
---
How Do U Want It - 2Pac (1996)
It's quite frankly a disgrace that my teenage self waited until the second to last song to have a 2Pac song. Or any west coast presence, for that matter. I'll blame it on my strong allegiance to Biggie. That, or I may have already been getting my west coast fix from my Death Row Greatest Hits CD.
---
360 (What Goes Around) - Grand Puba (1992)
The song is enjoyable enough, but part of me feels like this was the equivalent of the last paragraphs in a term paper. By this point I was probably tired and just wanted to finish the thing to go meet up with my friends.
Side B - 'Best R&B'
Knockin Da Boots - H-Town (1993)
In 1993, if I had been a suave ladies man with a slight edge to me, this is the song I imagine playing in the background as I dropped some major game. Instead at that point I was a pimple-faced middle-schooler who got into bed by 10pm, listened to sports radio and who'd never use the phrase "dropped major game."
---
Not Gon' Cry - Mary J. Blige (1997)
In her career Mary J. has sold over fifty million albums, been nominated for a Grammy thirty times (winning nine of those), and been on several "greatest of all-time" lists. Which, ok, is pretty impressive. But last week, I got tons of favorites on a tweet, so...
---
Let's Get Down - Tony! Toni! Tonè! (1996)
This group had some solid success over four albums but what always bugged me is that none of the members of this group were actually named Tony. Or Toni. Or Tonè. Which makes the addition of exclamation points after each name even more perplexing in my opinion.
---
Buddy - De La Soul - 1989
One of the quirks of creating mixtapes is that you'd often couldn't avoid the radio DJ's voice at the start or end of the song and that version of the song would be etched in your head. For example, when I looked this song up I was reminded that it doesn't actually end with a DJ's maniacal laughter like it did on my tape.
---
360 (What Goes Around) - Grand Puba (1992)
Oops. I put this song on both sides of the tape lending more credence to the previously mentioned term paper analogy.
---
Real Love - Mary J. Blige (1992)
I forgot to mention Mary J's "My Life" fragrance won not one, but two FiFi's in the "Direct to Consumer" and "Fragrance Sales Breakthrough" categories. But you probably already knew that. Is there anything this woman can't do?
---
Hey Lover - LL Cool J featuring Boyz II Men (1995)
If ladies loved cool James, then why is this song all about LL's obsession with a girl who doesn't even notice him? Probably because he was singing along to Boyz II Men the whole time.
---
Down Low - R. Kelly (1995)
There's much to say about this song, and R. Kelly in general. But it's probably safest to avoid everything that's coming to mind. Instead, I'll take the opportunity to discuss another great mixtape quirk: You'd get so used to specific songs coming on after one another that you'd expect that to be the case no matter where you'd hear the song. I am still shocked to this day when 'Around the Way Girl' doesn't come on after I hear this tune.
---
Around the Way Girl - LL Cool J (1990)
Here's something that today's teenagers and senior citizens have in common. To them, LL Cool J is just the dude from that CBS show.
---
Crush On You - Lil Kim featuring Lil Cease (1996)
You'll notice something unique about this lil' song. Even though it's a Lil' Kim joint, she's nowhere to be found on this track. I mean, she might be the person saying "true" throughout, but otherwise this is all Lil' Cease. According to Wikipedia, this song was meant to be a lil' duet before Kim ran into some lil' issues. I'll just leave it at that.
---
One More Chance - The Notorious B.I.G. (1994)
My differentiation between rap and R&B was generally questionable this whole side, but I guess I couldn't resist adding another appearance by Mr. Smalls. The tape begins with my favorite Biggie song and ends with the runner-up. Fitting.
Let's all agree that a more accurate title for side A would've been "Mostly Good Rap" or just "Rap Songs I Was Able To Record" nd side B could've been called "More Rap Plus Some R&B." But mixtapes were just as much about the journey than the final product.
Which, ok, is kind of just a cheesy way of saying: don't judge.