Layovers and long delays aren't much fun when you're stuck in a terminal with two fast food joints, rigid seating, and no spare outlets.
But if your trip takes you through any of these airports, you'd be wise to budget in as much extra time as possible. Given the wild array of expensive booze, Michelin-quality food, stunning sights, and absorbing entertainment, you might not even want to leave.
Dubai International Airport
United Arab Emirates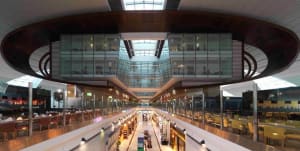 Think O'Hare in Chicago is big? Dubai's airport is five times the size, and packed full of ridiculous shops – there's over 280,00 square feet of stores alone. Whatever you're in the market for mid-trip, the retail spots have got you covered, including some seriously expensive luxury boutiques and a ton of duty-free options for buying high-end stuff on the cheap.
Once you're done shopping, wander through the airy, beautifully-designed terminals and you'll find comfortable recliners and solid food options to see you through the remainder of your layover.
Want to de-stress? Take a walk through one of the two open-air gardens. Flight got canceled? Check into the on-site, five-star hotel, swim a few laps in the pool, hit the sauna, and get some sleep until the next leg of your journey.
---
Hamad International Airport
Qatar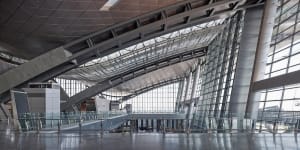 Its opening was fraught with delays, but Qatar's $15 billion airport finally opened in all of its overly luxe glory in the spring of '14.
Like Dubai, there are more shops than you could ever hope to visit, primarily of the ultra expensive designer variety. Check out the impressive art pieces on display in the main concourse, which give any gallery a run for its money. And if you need to spend the night, you can check in to the presidential suite at the in-airport hotel, and take advantage of its absurd amenities, like squash courts or a pool that's suspended over the airport's lower floor to create a stunning view.
---
Munich Airport
Germany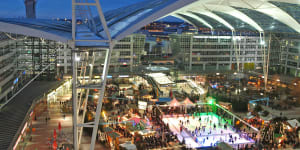 We don't blame you if your very first order of business after touching down in Munich is to find a pint of freshly-brewed local beer. Luckily, the airport makes that very, very easy with their soaring roofed-over outdoor beer garden, complete with towering chestnut trees, where you can order giant mugs of lager and traditional Bavarian food. Go one step further with a tour of the airport's very own brewery, where all that beer is brewed.
In the winter, the outdoor area becomes a sprawling Christmas market with dozens of stands hawking holiday snacks, mulled wine, and, yes, more beer. There's even an ice skating rink.
---
Singapore Changi Airport
Singapore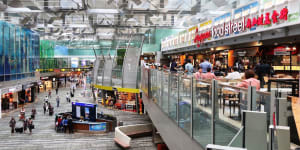 There are almost too many cool things to list at Changi airport. If you're feeling sluggish, you can hit the 24 hour gym to work up a sweat. If you need to relax, you can stroll through the two-story butterfly garden, complete with a waterfall, or visit the koi pond. If you're in the mood to see some nature, there are cactus, orchid, and sunflower gardens, too.
Embrace your inner kid by sliding down a four-story slide, or cruise between terminals on the airport's monorail. Go swimming at the rooftop pool. Watch a movie at one of two theaters, or play video games in the entertainment center. Or if you want to see the city, take a free two-hour guided tour of Singapore, which will let you see the sights and still make it back in time for your flight.
The real standout here, though, is the food. You've got both individual hawker stands and larger Asian chains, both selling impossibly delicious food that beats the hell out of most restaurants. Famed chef David Chang calls the airport's food court one of the best places to eat in the world. Take his advice and head to Crystal Jade Restaurant for soup dumplings, noodle soup, or a barbecue combo plate.