We've all been there: ear buds hanging off your neck, garment bag stuck in your roller wheels, laptop en route from armpit to terminal floor, breakfast sandwich leaking onto well-shod but tripped-over feet. Right?
Modern air travel can be a beast before you even hit the ticketing kiosk. But with a proper reevaluation of your routine and some select upgrades to your luggage game, there's a certain zen available to the traveller who's willing to cut some weight. If you've ever described George Clooney's security line scene in Up In the Air as "motivational," "a triumph," or "a thing that produced in me tears of robust organizational joy," read on. And try not to cry.
The Minimal Approach
Do more with less. There are broader applications to that statement, of course, but we're here to talk travel, and minimalism pays dividends when you get to your destination for the weekend and don't have to dig through 16 pairs of underwear. But the more tangible benefits are in transit.
Are your in-flight necessities centralized and easy to get to? Did you lay your bag out the night before, jettison any redundancies, and enjoy a lighter load day-of? Are you wasting time at the baggage carousel or breezing past it because all you've got is a carry on? Got room for gifts and bring-backs?
If not, may we humbly offer some guidance courtesy of...
The Guy Who Does it Best
We like travel as much as the next guy, but why talk to the next guy when you could speak with someone who's spent a couple of years touring the country in a blimp? And then subsequently built a brand dedicated to goods that make travel suck (a lot) less?
Meet Mike Macadaan, and the brand he founded called This Is Ground. We carry a lot of their stuff because it's clever, handsome, and really damn functional – which is why it can be found in more than a few Bespoke employee work bags.
Mike doesn't take the easy route. Case in point: mid-2012, he was inspired by the whirlwind of invention, materials, and manufacturing blowing around in the Downtown Los Angeles maker scene. When most of us have an urge for a perfect product, we go shopping. When Mike had an urge for a leather keychain, he taught himself a suite of craftsman techniques that allowed him to construct leather goods by hand. Coming from a mostly digital background, the tactile feedback of something he'd designed from scratch was exciting.
Not long after he started his burgeoning leather hobby, he was asked to make something that organized tech cables for a piece in a design blog. He said OK, then grabbed tacos at a local Mexican joint. The next morning, in a lucid and dreamy state, the two concepts connected and Mike prototyped the first Cord Taco out of foil and tape. Within a couple weeks it was a product for sale, crafted on nights and weekends in the first This Is Ground manufacturing facility known as Mike's loft.
The company has grown, but the mission remains: make it possible for people to create anywhere. Simplicity, purpose, and a classic visual language are the guiding principles Mike says keep the brand on target. We think he's right, so without further ado: Mike Macadaan on traveling smart (and a few other things) in (mostly) his own words.
Pre-Flight
I'm semi last minute and tend to start mentally planning out my travel goods a day or two before a trip. If I need any specialty items, I may start looking for them a week out.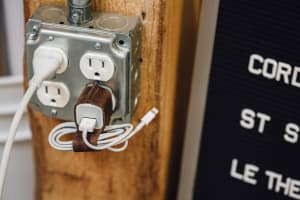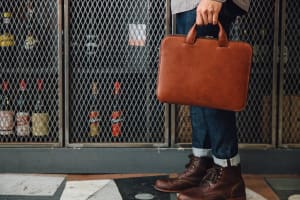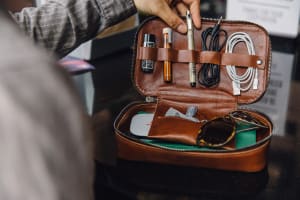 I like to lay everything out the night before and obsess about space, which is important because I almost always opt to carry-on vs. check a bag. I'll bring just enough and leave a bit of room for random acquisitions, gifts, etc. Once I over-think what I've packed and do the math several times on how many cords and plugs I'll need, I still manage to forget my toothpaste.
Whether I'm traveling for work or pleasure, I pack for pleasure – there's no reason for business trips to be boring. I think it's about quickly feeling grounded in an unfamiliar place. We're so accustomed to the creature comforts of home; getting out into a new place, enjoying local haunts, and living like a local for a few can help you quickly adapt and feel better about the business part.
When traveling outside the US, I like cash as opposed to credit. It gives me a reason to understand local exchange rates and I feel less like a tourist if I have some local money. I'll research exchange rates at my home airport versus at my destination and plan accordingly.
---
In-Flight
Must-haves for me once in the air are the Mod Tablet, tablet, stylus, pen, paper, earphones, something to chew on, downloaded book or movie, and sometimes a laptop if I'm preparing something on a business trip.
In terms of tech, I typically stow my cables in the Mod Tablet, Venture Backpack, and Tech Dopp Kit. The Mod Tablet is where I'll have my in-ear headphones. The Venture Backpack is where additional USB cords, WiFi, and my phone live.
If I need to go deeper and get into a rechargeable battery, stylus, or my GoPro, then I'll have those items in my TDK which tucked away in a roller or backpack. Of course, for a quick day trip I'll just take a Cord Taco with earbuds.
---
The Finer Points
On long-haul flights, are you: a) asleep, b) the guy with the noise-canceling headphones, c) working, d) reading, e) glued to the entertainment system, f) white-knuckling the armrest, or g) several cocktails in?
A and e with some g. I'm usually glued to entertainment and drift in and out of sleep with an empty cocktail cup in the cargo storage in front of me.
How do you handle dirty clothes on multi-day trips?
Wear them twice. If they're too smelly, they go into a hotel laundry bag.
Do you have a strategy for handling jet lag or do you just power through it?
First timing the flight around your plans is key. Last trip I took to Europe, I started to trick my body a day before I flew. So I took a shot of NyQuill at 2pm and crashed out until midnight. My flight was the next day at noon so by the time I was on the plane, I crashed out again and by the time I landed in Italy I was already feeling their time zone. If there's any jet lag left, yeah, I just power through it.
What's the best place you've ever been?
Florence, Italy.
What's still on the bucket list?
Bike around Budapest for a week and check out some local microbreweries, experience their public baths, and visit the labyrinth where Dracula was imprisoned.
Wherever you're headed, the end goal of a trim travel routine is a peaceful mind that can hone in on the task at hand: getting the most out of your trip. Get minimal, and we think you'll be in prime position to do just that – even if you do forget the toothpaste.