There's something gratifying about breaking the rules on a building project. Maybe it's the sixth grader in all of us who got "best effort" in sixth grade shop class. Just a random example.
Fortunately, the distressed look is definitely trending right now, so a hand-distressed end table or book shelf in your pad is sure to make the place look both rustic and modern. You woodshop rebels out there are free to do your worst.
The art of distressing wood furniture lies in creating a vintage, well-used look while maintaining a clean, attractive surface.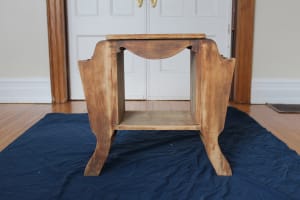 This wooden end table was an in-law castoff that we took on and spruced up. I used a really light, citrus-based stripper to take off a couple layers of stain, but the brownish-orange was definitely still soaked into the raw wood. I wanted a clean, down-on-the-farm white, with no artificial sheen and a healthy amount of distressing.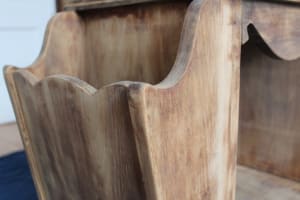 Distressing involves putting a color you like (in this case, white) over another color you like, then sanding some off of the top layer to get to the bottom layer. This can be achieved in one of three ways:
Use the color of the raw wood as your base color, then paint over it.

Stain the raw wood, paint over that, then sand down some areas to reveal the stain.

Paint a base color, a top color, then sand down to reveal both colors and the raw wood.
I like the color of the sanded wood on the end table, so I went with option number one. Here's how it's done.
---
Sand off any existing stain
I used a palm sander and medium-grit sandpaper to get rid of the rest of the orange-brown stain.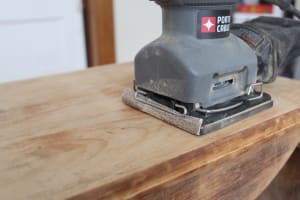 You can do this by hand, but you'll save yourself a lot of time and blisters if you shell out $40 for an orbital palm sander like this one from Porter Cable with 100 grit paper. A cloth bag on the back of the sander and the holes in the paper make it usable indoors – most of the dust gets sucked into the bag, like a vacuum cleaner.
Use steady pressure and back and forth, circular motions until you get an even color in the wood. Be careful not to round down the corners too much.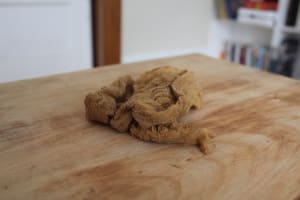 After sanding, you'll have a significant amount of dust on the piece. If you leave that on, the paint will stick to that instead of the wood, and when it dries everything will fall off in clumps.
Use a tack cloth to pick up most of the dust.
It's also a good idea to give it a second wipe-down with an old, clean t-shirt.
Now you're ready to paint.
---
Paint two even coats of color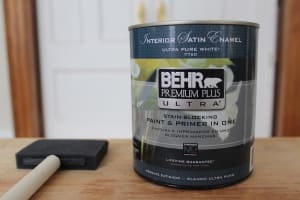 I used a paint and primer combination. For distressed furniture, primer helps the paint stick to the surface. It's a good idea to use separate primer and paint if you're doing a really nice, professional piece, but for something I want to look beaten up, this is faster and will do just as well.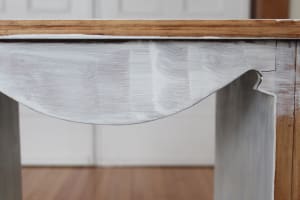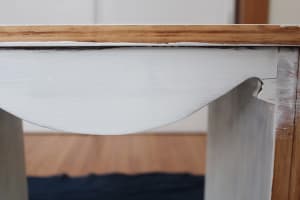 Satin enamel paint prevents a glossy finish. An eggshell or flat paint would do the same thing, but those wouldn't give any protection against glass rings and other water damage.
Spread the paint evenly over the piece. I used a foam brush because the surface area is small and I can throw it out after I'm done. That being said, a foam roller or higher quality brush would give me more even coats.
Always paint with the grain. Short strokes are fine for getting the paint on the wood, but always go over those again with longer strokes to give an even coat without noticeable brush marks in the middle of everything.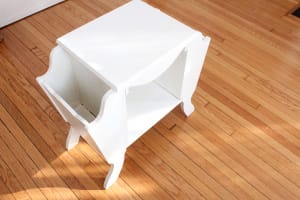 Paints dry at different rates, and your paint can probably indicates when to put on a second coat. Mine was dry in two hours.
Before applying a second coat, give it a quick once-over with the tack cloth again to pick up any dust.
Apply the second coat in the same fashion as the first. It will fill in some of those brown and gray areas, and hide the brushstrokes that didn't get smoothed out on the first coat.
Let it dry for another two hours.
---
Sand down the paint to an uneven, time-worn look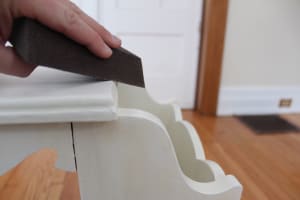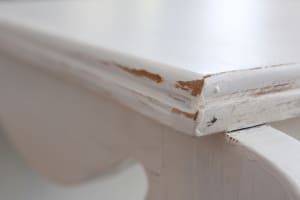 Now, the fun part.
Use medium to low grit sandpaper for the distressing. Sanding blocks work well for this, as they're easy to hold, and paper lets you really hit the corners. I used 80-grit paper.
How much you take off is completely up to you.
Distressing offers contrast to the paint. Focus on corners and edges, which would be worn down over years of use.
Vary the amount of sanding on every edge. The point is to add some authenticity to an otherwise humdrum piece, so don't make it look uniform.
Give it one final wipe-down to get rid of any sanding dust.
---
Clean up and admire your work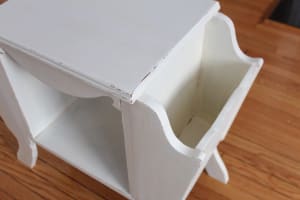 Your pride for stylish décor should now be bolstered tenfold by the satisfaction at having done this job yourself. With a few hours work, you now have a new skill and have turned a piece of '80s mass-produced junk into a tasteful example of modern farmhouse chic.
And if you think you feel good now, just wait until people ask you where you got it. How much to boast is something no DIY can tell you.