How do you make a perfect cocktail even better? Easy: toss it into an oak barrel for a couple weeks.
Barrel-aged cocktails have been making their way across drink menus at in-the-know spots for good reason: the aging time lets all of the disparate flavors meld into a smooth harmony, and the wood contributes an earthy, smoky note to the mix.
That's what Marco, the beverage director at Threes Brewing in Brooklyn, does. In addition to brewing some of the best beer in New York, Threes mixes up equally impressive cocktails of all kinds – some of which are laid to rest in the oak barrels, which are neatly stacked behind the bar, while the flavors meld and develop.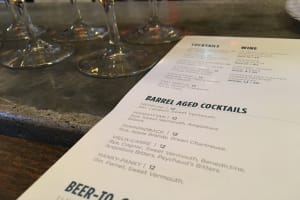 Each new batch is an experiment, as new cocktails are formulated and then poured into the barrels for about 4 weeks. The process, Marco says, is simple: you just need to think, "Oh, these flavors are awesome together as is – let's see how they'll evolve over time with a hint of oak." The only caveat is that the recipe has to be liquor-focused – you don't want egg whites, or juice, or anything perishable to sit around at room temperature for days or weeks at a time.
That's where The Diamondback, a blend of rye, green chartreuse, and applejack, comes in. The aging process mellows the upfront spice kick that you'd expect from the rye base, the sweet and fruity notes of the chartreuse and applejack become a bit more prevalent, and it's all finished up with an oaky hit of smoke from barrel.
Marco ages his in 10 and 20L oak barrels for about four weeks, tasting along the way "to get an idea of where it's going." To scale that down, use a wood stave and a small glass bottle like in our Aged box.
Ingredients
6 parts rye whiskey

1 part greene chartreuse

1 part applejack or apple brandy
Preparation
Pour all of the ingredients into a mixing glass and stir.

Pour the mixed spirits into a glass bottle with an oak stave, then seal the bottle.

Wait 8-10 days, tasting every couple of days to see how the flavor is developing. If you're happy with it after just a few days, pour and enjoy. If not, give it a little more time.