No discussion of New York City pizza would be complete without mentioning Paulie Gee's – the restaurant, or the man himself. His eponymous restaurant opened up in 2010 on a quiet stretch of Greenpoint Avenue, in northern Brooklyn near the East River, and has been making some of the city's finest Neapolitan-style pies ever since. But before he was a restaurant owner, Paulie had a completely different life.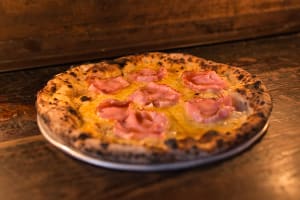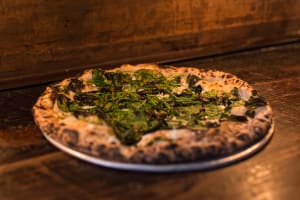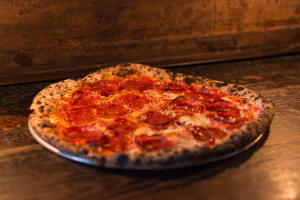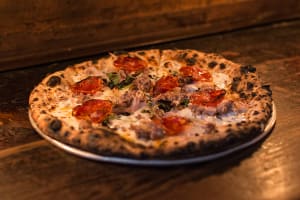 By his own account, he was "masquerading as a computer geek" for all of his adult life, holding down a boring, technical day job. At home, he made pizza. Good pizza. Then he built a pizza oven in his backyard to make them even better. And since he loved entertaining, he'd invite people over for dinner parties to cook pies.
They were a hit. Friends encouraged him to open up some kind of restaurant, but Paulie wasn't interested. It would be too complicated, he said, too much like a real job. "But being a pizza enthusiast," he said, "I observed how much simpler a pizzeria was in terms of operations, and that emboldened me. That was something that I could do, and do well. But at this point, I had to hit a home run. I wasn't gonna get any more chances in life."
It worked. He opened Paulie Gee's in Greenpoint in 2010 to massive critical acclaim, then went on to open a second operation in Columbus, Ohio. Now he's got locations planned in Miami, Baltimore, and Chicago, in addition to an old school-style slice joint nearby the original sit-down restaurant in Greenpoint.
In the early days at his first location, Paulie had an apprenticeship program – if you wanted to learn how to make pizza, you could help out around the restaurant and learn from the man himself. A guy named Mike was interested, so he applied and started learning the ropes.
At home, Mike had been working on his own food project: a chili pepper-infused honey that he first tasted when living in Brazil. Since it tasted great on pizza, he brought some into the restaurant.
"I like to find opportunities to find a local artisan and feature their products," Paulie says. " I promote them, they promote me, and everyone wins. When Mike came in, I saw the same opportunity, so I quickly tried to figure out what pie it would go well on. We had one already called the Dellboy, and I thought that would be a good choice."
Turns out, good is a huge understatement. Paulie Gee's hot honey-spiked pies are jaw-droppingly good and have since spawned a countless number of imitators across the city.
So what does it take to make pizza as good as Paulie's? Here's his advice:
Heat Things Up
To crisp the dough up nicely while sealing the moisture in so that it's still nice and chewy on the inside, you need heat. A lot of it. If you're serious, Paulie suggests building your own outdoor oven like he did.
If that's a bit too ambitious, you can still make some excellent pizza in a home oven. We suggest getting yourself a good pizza stone – they do a great job of absorbing and retaining heat, giving you a blazing hot cooking surface. They're primarily used in the oven, but for some extra heat, you can place one on your grill and cook that way.
---
Use Good Ingredients
Your pie is only as good as what goes into it. Make some homemade dough, then top it with the good stuff: crushed tomatoes, fresh cheese, and whatever else you're in the mood for, so long as it's high quality.
---
It's All About Balance
As with all things, moderation is key. Paulie says, "I always like to get a good balance of ingredients, and I never want to have too much of one thing on a pie. If you're putting multiple toppings on your pie, you should be able to taste them all."
---
Add Some Sweetness
"I try to get a mix of sweet and savory," Paulie says. "The Hellified Porkpie White, the Monte Cristo, and the Hellboy are two great examples of that. Some of our favorite pies have that sweet, savory combination."
Not all your pies need a sweet note, but you'd be surprised at how much depth it can add to your dinner. Try a drizzle of Mike's Hot Honey or maple syrup and be amazed.
---
Limit the Moisture
If you add too much high-moisture cheese or an excess of sauce, your crust is going to be soggy. No one wants that, so be mindful when you're adding your toppings.
---
Skip the Sauce
A lot of people think that pizza always needs have tomato sauce on it. It doesn't. Take the Daniela Spinaci or Hellified Porkpie White pies above, for example. "When you're putting all these ingredients on that aren't traditional," Paulie says, "I don't want them all to be blended in with tomato sauce. They'll stand out more without it. Sauce just doesn't belong on every pie, even though that's an expectation from a lot of people."
So there's what you need to know – the rest is up to you. Hit the grocery store, heat up your oven, roll up your sleeves, and see for yourself how good homemade pizza can be.