In craft beer circles, it's practically legendary: an intensely boozy, powerfully flavorful, and incredibly rare Belgian quad called Westvleteren 12 (aka Westy 12). It's one of a few different beers made by reclusive Trappist monks at the St. Sixtus monastery in rural Belgium, true to the region's centuries-old brewing tradition.
To buy it these days, you've got to call the brewery over and over for hours through a line that's practically always busy. If you're lucky enough to get connected, you make an appointment to pick up a single case of beer directly from the monastery, and they'll ask for the license plate number of the car you plan to pick the beer up in – no one's allowed to use the same license plate twice within 60 days.
On your appointed day, you drive out to the monastery in a tiny area of West Flanders, about an hour and a half outside of Brussels. Pull up to the gates and one of the monks will load a crate of beer into your car before sending you back on your way.
Alternatively, you can get a single six-pack to go (and as much as you'd like to drink on-site) at the monastery's café without making a reservation, but only if they haven't already sold out for the day – which happens often.
There are some alternative ways to get your hands on a bottle or two without that whole song and dance, but they all take place on the gray market with varying levels of risk and expense.
If you're in Belgium or the surrounding countries, you might get lucky and find a bottle at a beer store or a pub, but the odds are slim and the markup is significant. If you're not in Europe, profiteering online retailers will ship you some, but you'll pay out the nose for the markup plus shipping – to the tune of $50+ for a single 12 oz bottle. If you want to take to the beer trading community, you might be able to find someone who's willing to part with a bottle, but you'll have to offer an equally rare beer (or several) in exchange.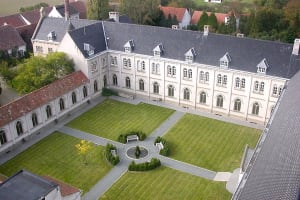 There was one instance of the beer being sold legally in the US, back in 2012. The monastery needed a new roof, so to make money, they distributed gift boxes (called "bricks" in the beer community) in the States with six bottles of Westvleteren 12 plus two goblet-style glasses. But predictably, the supply was minuscule and the demand was stratospheric, so it was tough to buy one even if you were willing to pay the $85 suggested retail price – or the ridiculous markups on eBay listings that popped up in the aftermath.
For years and years, this was the beer that any aficionado wanted to get his or her hands on. As American craft beer has grown and evolved, lots of other limited release, ultra rare, hype-driving brews have entered the scene, and Westvleteren has become a slightly less hot commodity in comparison, but it still commands the #1 spot on RateBeer's list of the most highly rated beers in the world and carries a massive amount of prestige.
But it's not alone. There are a few other beers that are thought to be on par – or close – to Westy 12, and don't require an arm and a leg to get ahold of. Before you get into the taste differences of the competition, though, you need a little background. Ready?
The Story of St. Bernardus
In the late 1800's, anti-clerical sentiment in France forced a group monks from the Trappist Mont des Cats monastery in French Flanders to flee to Watou, a village in West Flanders just a stone's throw away from the town of Westvleteren. There, they established a refuge named Notre Dame de St. Bernard and opened a dairy farm to make and sell cheese, which financed their religious work. When the refugee monks returned to France, they left the dairy in the hands of a family of cheese makers called Claus.
Now, back to Westvleteren. The monastery's on-site brewery was founded in 1838, but didn't start selling their beer to the general public until 1931 – prior to that, it was reserved for guests and the monks themselves. It was difficult, though, to brew enough to satisfy both the local market and the abbey itself, so in 1946 the monks of St. Sixtus enlisted some help.
The assistance came from the Claus family, who worked with the St. Sixtus monks to turn the Claus cheesemaking operation into a brewery that could help with Westvleteren's output. The dairy-turned-brewery was named St. Bernardus, after the original refuge. The original Westvleteren brewery brewed beer for drinking and selling at abbey while St. Bernardus brewed the beer that would be distributed out to the local market.
But despite using the same recipe, yeast strain, and techniques, the two locations were never 100% in sync: iconic beer writer and historian Michael Jackson noted that the St. Sixtus batches were more malt-forward, while the St. Bernardus batches had a more fruity yeast flavor.
In any case, the arrangement continued for over half a century until 1992, when the contract between the two brewers expired. No longer bound by their old agreement, a new generation of St. Sixtus monks decided not to renew St. Bernardus' production license, deciding that true Trappist beer should only be brewed inside the walls of a monastery.
So St. Bernardus pivoted, just slightly, by brewing the same beer with a new name: St. Bernardus Abt 12. And because they didn't have any religious code that limited their sales or production capabilities, Bernardus grew and distributed their beer far and wide. These days, you can get it at any self-respecting beer shop.
Rochefort's Entry into the Ring
Actually, that's a little disingenuous – Rochefort had been around long, long before either Bernardus or Westvleteren.
Notre Dame de St Rimy, aka the Trappist Abbey of Rochefort, is located a couple hours east and slightly south of Bernardus and Westvleteren. It was originally a convent, dating back to at least 1230, and began brewing beer at least as early 1595. And they're still around today, making some of the world's finest Belgian ales.
Their quad, Rochefort 10, doesn't have an entangled history like Westvleteren and St. Bernardus do, but the flavor profile is considered to be extremely similar to both. And like Westvleteren, it's a real deal Trappist beer – a rare distinction, considering that there are only 11 Trappist breweries in the world. To qualify as such, it has to follow three requirements of the International Trappist Association:
The beer must be brewed within the walls of a Trappist monastery, either by the monks themselves or under their supervision.

The brewery must be of secondary importance within the monastery and it should witness to the business practices proper to a monastic way of life.

The brewery is not intended to be a profit-making venture.  The income covers the living expenses of the monks and the maintenance of the buildings and grounds.  Whatever remains is donated to charity for social work and to help persons in need.
Despite those limits, Rochefort isn't too difficult to buy in the US – you should be able to find yourself a bottle at most well-appointed beer stores.
The Taste Test
Ok, down to brass tacks. How do the two competitors stack up to the Westvleteren 12? Is the white whale of Belgian ales worth the cost and hassle, given that the others are easily available? We were lucky enough to get a bottle of the Westvleteren, so we picked up a Bernardus and Rochefort and opened 'em all up to sample side-by-side.
Rochefort 10
The deep, rich flavor of this beer hits you like a ton of bricks. Burnt caramel, plum, and plenty of booze are the notes that jump out right away. There's a very dark and bittersweet chocolate flavor as well, and a creamy texture that seems to coat your taste buds. Of all three, this was the most roasty and bitter.
---
St. Bernardus Abt 12
Noticeably sweeter than the others, with milk chocolate and ripe cherry notes jumping through the dark malt body – so much so that it borders on tasting (and feeling) syrupy. The alcohol note is much more well-hidden here than in the Rochefort, giving the beer a gentle warmth that's not too overpowering.
---
Westvleteren 12
The rich fruit flavors (cherry, plum) are huge here, even more so than the Bernardus, but there's something different: it's intensely flavored but not at all cloying or saccharine. There's also a unique yeast-driven funk in this beer, which lends an earthy nuance that wasn't present in the others.
The Verdict
Which is best? Well, that's a tough question to answer – taste is subjective, and these are three very similar beers.
That said, our tasting panel agreed that the Westvleteren – with its richness, sweet (but not too sweet) dark fruit notes, and unique funk – was the best. St. Bernardus was a very, very close second, with an extremely similar taste but a heavier sweetness. The Rochefort, while a great beer in its own right, tasted noticeably different from the others and finished third.
So, does Belgium's most hyped-up Trappist ale live up to the hype? Is it worth the extreme lengths required to get ahold of a bottle, given that there are similar options available locally?
If you're a casual beer drinker who just wants to develop an appreciation for Belgian beers, then the answer is a resounding no. For way less money and way less effort, you can buy a traditional Trappist (or Trappist-style) beer at your local shop that tastes almost the same as Westvleteren.
But if you're a beer obsessive who likes to dive deep into tasting notes, brewery history, and all of the subtle nuances that can inform a beer's flavor profile, then Westvleteren 12 is well worth seeking out. Sure, there was probably a good deal of confirmation bias happening in our tasting, but the Westy seemed to have a layered, earthy complexity and a more rounded sweetness that was lacking in the others.
Whether that's worth booking a flight to Belgium is up to you.