There are a lot of beer styles out there – well over 100, according to the Beer Judge Certification Program's official guidelines. The uniquely American ones, though, are few and far between.
Brewing has a very long and nebulous history, so our current classification system is essentially just a loose set of style guidelines that are applied in retrospect, based on thousands of years of beer-making. But the specific styles as they're understood today do a good job at grouping both traditional and modern brews, and given beer's long history in Germany, Belgium, and England, the vast majority of them are based on European brewing traditions.
There are a few exceptions, of course, but even most "American" styles recognized by the BJCP are simply interpretations of European recipes – American Stout or American IPA, for example – so it's rare to come across a style that's born and bred in the States. California Common (aka California Steam) and Kentucky Common are the two big ones, and the case could be made that American Light Lagers like Budweiser, which pioneered the large-scale use of adjuncts like corn, also count.
But head to a handful of Florida taprooms, and you'll notice a new style that's starting to gain traction: the Florida Weisse.
---
Admittedly, this isn't an altogether new style. It gets its tongue-in-cheek name from the Berliner Weisse style – a specialty of Northern Germany with a history that stretches back to the 16th century.
Traditionally, Berliner Weisses are sour, hazy, low alcohol (around 3%) wheat beers that get a unique tartness from lactic acid bacteria in the fermentation process. In Germany, they're mixed with fruit syrup to offset the beer's aggressive sourness and create a sweet, soda-like drink.
American craft brewers have taken their own passes at the style; The Bruery's Hottenroth and Bell's Oarsman are two prominent examples. But the Florida variation doesn't just replicate a Berliner Weisse – it takes that idea but adds fruit directly to the brewing process, capturing the spirit of the syrup addition but creating something new. The results are tart, fruity, refreshing brews with wild colors.
In 2010, Cycle Brewing – then a small part of a brewpub called Peg's Cantina in Gulfport, FL – kick-started the style by brewing a Berliner with limes and raspberries. The beer was a knockout among the local craft crowd, and when homebrewer Jonathan Wakefield made a dragonfruit version with Florida's Cigar City Brewing soon after, bottles sold out in minutes.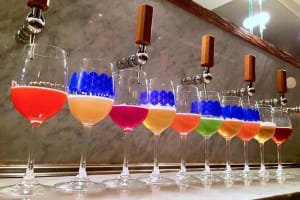 Wakefield capitalized on his Cigar City success and opened J. Wakefield Brewing in Miami, which is now a cult favorite. His hugely popular, neon pink DFPF is fermented with dragon fruit and passion fruit; others come in equally bright hues and flavors.
Funky Buddha Brewery in nearby Oakland Park has made versions with key lime pie, raspberry, passion fruit, and lychee. 7venth Sun Brewing in Dunedin has done blueberry, sudachi, and mango. It wasn't long before other breweries all across the state were experimenting with their own versions, all of which were tart, bright, and refreshing – perfect for drinking in the hot sun – and the name "Florida Weisse" caught on.
---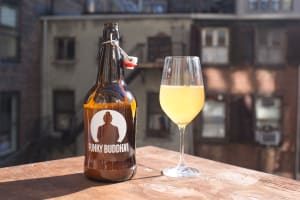 Funky Buddha first brewed the style themselves sometime in 2011 at their Boca Raton location, where they were popular from the get-go with beer aficionados with an acquired taste for sour brews. "It's a fun style, and it's perfect for Florida because it's so light and refreshing." Brand Director John Linn says.
And while there's no doubt that the beers have become popular around Florida, whether or not this is really a state-specific style – or even a separate beer style to begin with – is up for debate. "We don't consider it a uniquely Florida style, no" says Linn. According to him,
Dogfish Head was producing a fruited Berliner Weisse (Festina Peche) on a national level as early as 2007. The tropical fruit addition that you see from a lot of Florida breweries is exciting and interesting, but it's perhaps better classified as an evolution of something that's been done for hundreds of years. It makes sense, because we have those fruits available here all the time – use what's local and what's around you.
It's certainly true that there are breweries in other states producing similar recipes, but the concentration and uniqueness of the beers coming from Florida breweries are on a level apart from anywhere else in the country – or the world.
So the next time you're in the state and feeling thirsty, do yourself a favor and swing by the closest local brewery. Whether or not it's technically a new style, a pint of fruit-infused Berliner Weisse is a damn good compliment to a sunny Florida afternoon.