When it comes to whiskey, there are so many rules and terminologies that trying to wrap your head around anything besides your usual can quickly become an exercise in frustration. That rack of bottles behind the bar with their alluring amber liquid are calling your name, and the image of the well-rounded gent sipping away and entertaining his entourage with witty rapport is an enviable one. But where does a guy start?
In the most basic terms possible, a whiskey is any spirit produced from a fermented grain mash. Mashing is the brewer's term for the hot water steeping process, which hydrates the barley, activates the malt enzymes, and converts the grain starches into fermentable sugars.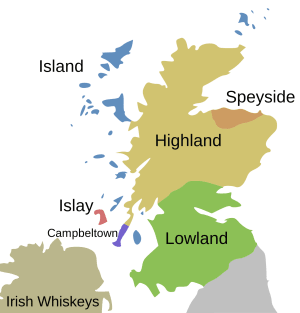 To make that whiskey a Scotch, it by law has to:
Be produced at a distillery in Scotland.

Mature in oak casks for a minimum of three years.

Have no other extraneous ingredients than water and caramel coloring.

Yield a minimum alcoholic strength of 40%, or 80 proof.
Those are some relatively strict guidelines, as far spirits go. But even with that in mind, you can get a surprising amount of variation in flavors, especially depending on where, geographically, the stuff was distilled. Scotland is separated into five distinct zones for Scotch-making, with each locale producing its own type of whiskey.
Categorizing them by anything other than location on a map isn't an exact science, since there can be large variations in flavor even within regions. But if you're ok with painting in broad strokes, the nuances that set each regions' Scotch apart from the rest is fascinating.
Speyside
The largest amount of Scotch production from the highest number of distilleries comes from Speyside, in the northeast of the country. Despite not being too large of an area, this is where around 50% of all Scotch is produced. Speyside's product comes from the 50 distilleries, over half of the country's total number of Scotch producers.
Due to the sheer volume of distilleries, there's a huge amount of difference in the character of Speyside Scotch, from lighter grassy numbers, to the sweeter, richer, sherried type. The single malts from the area are notable for their refined smokiness and complexity. Johnnie Walker, one of the world's more popular Scotch brands, originates from here.
Predominant Flavors
Varies, but generally smoky and deeply complex with hints of apple, nutmeg and vanilla.
Notable Distilleries
Johnnie Walker, Glenlivet, Glenfiddich
---
The Highlands
If you roughly drew a line between Edinburgh and Glasgow, everything above that would be the Highlands. Geographically speaking, it's the largest whiskey producing area, which includes the cities of Inverness, Aberdeen and Dundee. They're much more spread out than in Speyside, but there are over 30 distilleries in the area.
If you found yourself gamboling amid the thistle and quaffing a Scotch from here, the notes of peat, honey, and heather in a much more robust, dry body would shine through. But because of the sheer size of the land mass there is also a huge difference in flavor, like with Speyside. Distilleries nearer the coast – as you'd imagine - make batches with a salty taste. Probably the most widely known brand from The Highlands is Glenmorangie.
Predominant Flavors
Because of just how large this area, the amount of variation is huge, but you can generally expect especially bold flavors, including heather and dried fruit.
Notable Distilleries
Wolfburn, Ben Nevis, Glenturret
---
The Lowlands
This area is famous for utilizing the triple distillery method, which increases the alcohol content but leaves the final whiskey lighter, as it removes heavy components like oil and protein. You'll find it in the southernmost part of Scotland.
There are, sadly, only three distilleries left in the area, all of which produce lighter single malts. Known as "The Lowland Ladies" for their fruity, floral flavor, they were originally popular with the English – who are, coincidentally, often considered by the Scots to be a people best suited to ladies' drinks.
Predominant Flavors
Floral tones like grass and honeysuckle pair with sweeter notes like toffee and cinnamon.
Notable Distilleries
Glenkinchie, Bladnoch, Auchentoshan
---
Islay
This small island off the west coast of the mainland is only 25 miles long, but contains nine distilleries. To the uninitiated, their Scotch can be a bit intense, given that it packs a powerful wallop due to the quality of its peat (soil made of decayed moss matter).
The level of smokiness a Scotch achieves is determined by the time and type of smoldering peat the barley is exposed to during its drying process. The peat on Islay, fed on a constant diet of rain and seaspray, is particularly pungent and adds a strong smoky, earthy taste with a touch of salty seaweed. If you think you can handle it, cop a bottle of Ardbeg to put some bag on your pipes.
Predominant Flavors
Although they don't sound appetizing, the mixture off brine, sea wood, smoke, and salt add a distinctive and intense flavor. It's an acquired taste.
Notable Distilleries
Ardbeg, Bowmore, Lagavulin
---
Campbelltown
The small western coastal town of Campbelltown used to be the hub of Scotch distilling with early worldwide distribution. That is, until overproduction, American prohibition, and the depression hit sales hard.
Purists still consider Campbeltown one of the most important zones of Scotch production, purely because of their huge impact at the turn of the 20th century on popularizing the stuff. Single malts made there contain both the sweet and the savory, with briny, smokey notes jostling with fruit, toffee and vanilla. There are only three distilleries left here, including old Glengyle, which was founded in 1872, shuttered in 1925, and was just reopened in its original location in 2004.
Predominant Flavors
Among the previously mentioned brine and smoke, enthusiasts also praise the area's distinctive (and, unless you have the palate for it, a bit off-putting) flavor of wet dog, also called wet wool.
Notable Distilleries
Glen Scotia, Springbank, Glengyle
Now head to your neighborhood whiskey spot, get yourself a couple small pours, and see if you can note the differences for yourself. That's the fun part, after all.