When the time comes to roast some marshmallows and keep warm while you relax outside, you're going to need to know how to set up a blazing campfire. Build it properly and you should have no trouble getting the thing to light and stay burning while you spend all night eating s'mores.
Choosing the Right Spot
Hopefully this is common sense, but don't start a campfire on a bed of dead grass or any other dry, flammable environment. You need a bare patch of dirt, sand, or rocks instead. If you need to, thoroughly clear away any dry grass and leaves to make a wide area of bare ground to avoid starting any forest fires.
When you've got a good spot, dig a small pit to build your setup in. That way, the logs you're about to arrange will fall safely into that area once they start to burn through.
---
Gather Your Firewood
You know how to chop firewood, right? Good. Make sure to gather plenty of it -- it'll burn more quickly than you think -- and chop it into these three different sizes in order to get things going:
Tinder - This is the small stuff like leaves, dried grass, and small twigs that'll immediately catch fire and light the larger pieces before burning out itself. If you've got it, newspaper or dryer lint also works well.
Kindling - Larger twigs, bark, and finely split logs will light quickly, but are substantial enough to last until bigger pieces of wood can catch.
Logs - These are the largest ones you'll be using to keep the fire going once you've built up a decent flame. Use medium-sized tree limbs, or grab a hatchet and chop larger pieces in half or quarters.
---
Build Your Fire the Right Way
The goal here is to let the tinder light the kindling, which in turn lights the logs. To do that, you want to arrange everything into a cone.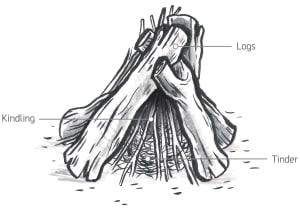 Put the tinder in a pile at the center of your pit. Then build a cone around it with your kindling, leaving an opening where you can light the thing.

Repeat by adding logs around your kindling, either in another cone-shaped layer or stacked around the edge in a square.

When you're ready to go, use a match or lighter to ignite the tinder and let the flames grow as the outer layers begin to catch.
---
Put It Out Once You're Done
Don't forget to thoroughly put it out once you're finished. And no, just throwing some dirt onto it, or leaving once it looks dead enough, doesn't cut it.
While it's unlikely, heading out before the fire is completely extinguished could lead to some very big disasters, and you do not want that on your conscience. Splash the ashes and remaining wood with water and use a branch to mix it around, making sure that there are no small embers that could re-ignite any errant tinder.