Assuming you take good care of the stuff, years and years of wear on your favorite leather goods will give you a beautiful one-of-a-kind patina. There's something special about a buttery soft, deeply burnished leather bag, belt, or bomber jacket that off-the-rack options just can't compete with.
But what if you just want to take a shortcut?
Well, good news: you can. Some rubbing alcohol, sandpaper, shoe polish, a lot of elbow grease, and about twenty minutes of your time can turn stiff new leather into a soft, artfully faded version of its former self. Ready?
The Gear
90% rubbing alcohol
Rubber gloves
Fine-grit sandpaper
Shoe polish
Shoe wax
A buffing brush
The Steps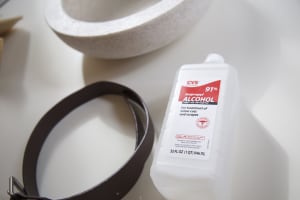 Put whatever you want to distress — we used a belt — into a bowl. Put on the rubber gloves and splash a generous amount of rubbing alcohol onto the leather.
---
Squeeze, wring, scratch, and just generally try to beat up the leather. You want to make it look like it's been creased and worn from years of heavy-duty use, so don't be afraid to get aggressive. If your leather is colored, the rubbing alcohol will take some of that off — hence the gloves, to avoid getting pigment all over your hands and clothes.
---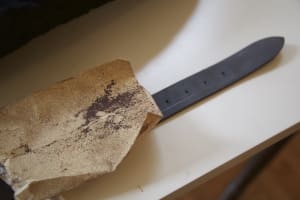 Once you're happy with the change from the rubbing alcohol, take the leather out of the bowl and wipe it down. Then grab a square of sandpaper and scrub the entire surface thoroughly. You can be pretty rough here; the scratch marks will (mostly) buff out in the next step, leaving behind a subtly beat-up appearance.
---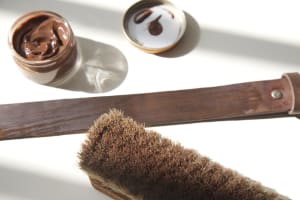 Open up some shoe polish of the same shade as your leather (or If you're working with brown leather and want to darken it, use black). Grab a rag or some paper towels and apply the polish generously, working it in as much as possible. Wipe down the excess, then buff with a brush.
---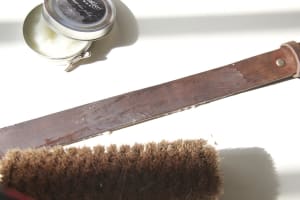 Repeat, but with shoe wax instead of polish. This is a one-two punch: the shine helps to mimic a worn-in patina while also adding an outer layer of protection to the leather.
---
Boom: a hard-worn, beat-up, had-it-for-years belt that actually only took you twenty minutes to break in.