Fall comes with Oktoberfest lagers, pumpkin ales, and wet hopped IPAs. Winter is perfect for roasty, warming stouts. But what about when spring and summer arrive and the warm weather kicks into high gear?
Well, to be honest, you really can't go wrong when the sun is out and you're cracking open a brew on your back patio or fire escape. But some refreshing, low-ish alcohol styles are an especially great fit.
Saisons

These dry, slightly spicy brews were made for the summer. No, seriously: the style originated in farmhouses in French-speaking Belgium, where they were brewed during the down time of winter and then stored until the warm months, when workers would pour themselves glasses after long, hard days on the farm.
Saisons weren't originally an agreed-upon type of beer — each farm would brew their own with whatever malts, hops, and other ingredients they wanted — and even now you can find a very wide range of flavors within the style. In general, though, they tend to be between 5% and 8% ABV with lots of carbonation, pale malts, minimal hop flavor, and a slight twinge of yeast-y fruit and spice.
Look for: The Bruery Saison Rue, Goose Island Sofie, Cigar City Cucumber Saison, Prairie Standard, Ithica Ground Break, Brooklyn 1/2 Ale, Saison Dupont
---
Goses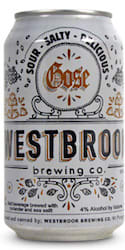 This is definitely one of the more unusual beer styles, given that it's brewed with coriander and salt. Sounds weird, we know, but don't knock it until you've tried it.
It started off as a tiny regional specialty in the town of Goslar, Germany way back in the 1500s, grew to be wildly popular by the 1800's, then went eventually extinct in the mid 20th century. Now it's making a small resurgence among adventurous drinkers, and the low ABV (usually around 4%) plus a light body with a slight tartness and subtly salty bite make it a terrifically refreshing option for hot days spent in the sun.
Look for: Westbrook Gose, Anderson Valley The Kimmie The Yink & The Holy Gose, Almanac Golden Gate Gose, Victory Kirsch Gose, Döllnitzer Ritterguts Gose
---
Pale Ales/Session IPAs

Big, bold, loaded-with-hop-flavor IPAs are damn good, and damn popular — they're far and away the best-selling craft beer style in the country. But when you're packing a cooler for a day at the beach or buying a six pack to sip in front of the grill, the higher alcohol content and aggressive flavors can be overkill. By the second or third drink, your head is spinning and your palate is blown out.
Ratchet things down and switch to a humble pale ale, which still carry lots of hop flavor but with a little more balance and less booze. Or try it's slightly tweaked cousin, the session IPA.
Breweries would lead you to believe that a session IPA has all the assertive hoppiness you want in an IPA, but with a low ABV. You could argue that that's just a pale ale with a clever marketing gimmick behind it. Or you might be onboard with the slight increase in bitterness over most pale ales — though be warned that it usually comes at the expense of balance, since keeping high bitterness but lowering the alcohol can make beer taste a bit harsh and one-note. Try one and decide for yourself.
Look for: Stone Go To IPA, Three Floyds Zombie Dust, Half Acre Daisy Cutter, Maine Beer Co. Peeper Ale, Carton Boat Beer, Modern Times Oneida, Founders All Day IPA, Firestone Walker Easy Jack, Oskar Blues Pinner
---
Witbiers

Like saisons, this style hails from Belgium and relies more on light, yeast- and pale malt-driven flavors than hoppiness. In fact, back in the day, hops didn't enter the equation at all — brewers used a blend of spices and other herbs that they referred to as "gruit."
The pale, hazy body and crisp, summery taste comes from the unfiltered use of wheat in the brewing process (hence the name) and high carbonation. And the style's telltale mix of coriander and orange imparts a sweet and subtly spicy twinge of flavor that's bright and refreshing. That, plus an ABV that hovers around 5%, makes it great for knocking back on a sunny afternoon.
Look for: Ommegang Witte, Hoegaarden Original White, Allagash White, Harpoon UFO White, St. Bernardus Witbier, Kiuchi Hitachino Nest White Ale
---
Blondes
This is a simpler breed of beer. It doesn't pack bursting complexity or in-your-face flavors, but when done right, it's a strong choice for warm weather sipping. Breweries tend to play fast and loose with the style — you can find hoppy ones, spiced ones, Belgian-inspired ones, and lots more — but in its purest form, a blonde ale has low hoppiness, low malt flavors, low yeast notes, low alcohol... basically, low everything. It's meant to be simple, clean, and approachable.
They don't hold a candle, intensity-wise, to the big flavors of some other styles, but there's beauty in the simplicity. On those long and sunny days watching a ball game, or kicking it at the beach, or mowing the lawn when you want something you can drink three of without needing a nap and some advil, this is the beer for you. They're also sure to please a crowd, making them a great choice for stocking in a cooler the next time you're hosting a summer cookout or bringing beers to share at the beach.
Look for: New Belgium Somersault, Victory Summer Love, Half Acre Gossamer, Deschutes Twilight Summer Ale, Narragansett Summer Ale, NOLA Blonde Ale, Bissel Brothers Baby Genius